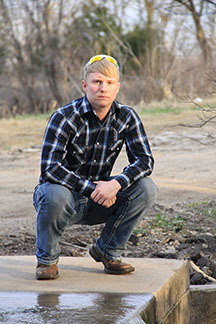 TOOK EVERY OUNCE OF HEART AND SWEAT AND BLOOD.
Sam Vermetten
Wednesday, April 24, 2019
Payden Jacob Yungeberg was born and raised in the Valley Heights community, and playing football as a Mustang has impacted him the most over the course of his high school career. Payden's favorite high school memory was beating Centralia his sophomore year of football and some of his greatest influences have been his football coaches. "They've pushed me so hard over the last four years and have shaped me into the person I am today," says Payden.
Respectful is the word that describes Payden best, because of his ability to treat others right. His greatest accomplishment, in his words, was being able to be a varsity football player for four years and earning Second Team All League. When asked what he wants to be remembered for, Payden said, "I want to be remembered for my performance on the football field, my character off of the field, and my ability to make others laugh." A quote that serves as inspiration for Payden is "Football is football, and talent is talent. But the mindset of your team makes all the difference."
Aside from his involvement in football, Payden played basketball for one year, participated in art for two years, and was a member of FFA all four years. He was also a Senior Football Captain this year. After graduation, Payden plans on getting his CDL and applying for an internship to become a lineman.