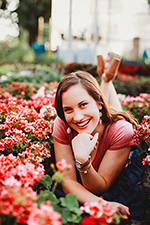 AMAZING GRACE
Valley Heights Journalism
Tuesday, April 30, 2019
Eleanor Roosevelt once said, "To handle yourself, use your head; to handle others, use your heart." This quote inspires Hannah Grace Musil, daughter of Jim and Mona Musil to continuously strive to be a genuinely kind person. Throughout her high school years, Hannah competed in many sports varying from, Volleyball, Basketball, and Track. When not playing sports, Hannah stays involved in activities including, KAY, NHS, All-School Play, Forensics, Journalism, Peer Mentor, Art Club, Student Council, VH Club, and FCA. Some of Hannah's highest accomplishments that she has achieved include being one of the Journalism Editors, Student Council President, National Honors Society Secretary, and Kansas Governor's Scholar.
When not participating in school activities, Hannah enjoys playing the violin, and attending the Marysville Berean Youth Group. Something most people don't know about Hannah is that she has been to half of the states in the United States. Hannah greatly appreciates her mother, Mona for how selflessly she has served her family and continuously puts others above herself. Her mother's influence has motivated Hannah to attend Kansas State University to major in Human Development and Family Sciences with a minor in Kinesiology to become an occupational therapist.
Hannah has had many memorable and unforgettable moments throughout high school. After contemplating what she considers to be one of her "best" memories she says she will always remember every single funny moment that happened at the Opera House during the play. Along with beating Olpe in double overtime at the 2A state basketball tournament.