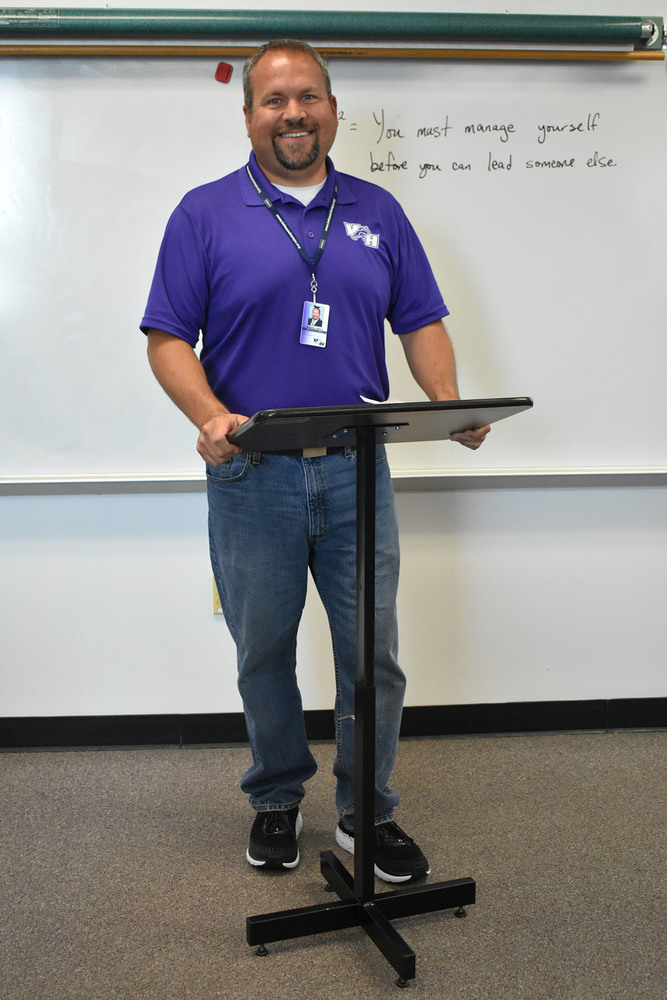 STAFF SPOTLIGHT: IN TOUCH WITH MR. SMITH
Kennedy Stevenson & Emma Yungeberg
Tuesday, August 27, 2019
STAFF SPOTLIGHT: IN TOUCH WITH MR. SMITH
Valley Heights High School welcomes several new faces to the building this year. Mr. Wendell Smith is the new High School Social Studies teacher. Prior to his move to Valley Heights, Mr. Smith taught College History and Government courses at Ottawa University. While teaching, he started coaching football, and later golf at the collegiate level. Mr. Smith will be coaching high school football and golf, as well as junior high basketball this year. His wife Rachel and his daughter Erin are still living in Ottawa, Kansas, for the time being. He also has a son, Westen, who is a freshman at Washburn University.
When asked about how Valley Heights is different than Ottawa, he replied, "This school is significantly smaller than anywhere else I've taught before. My wife attended a smaller school growing up, and we both agree the relationships built at schools with fewer students are closer and last longer."
"Everyone has been great, and has made the transition to Valley Heights easier. Several staff members have reached out to me and all the students are very respectful." The Valley Heights community is very thankful to have Mr. Smith here, and the students are excited to spend the upcoming year with him.