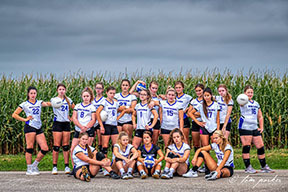 THIRSTY FOR SUCCESS
Valley Heights Journalism
Tuesday, August 27, 2019
The Lady Mustangs kick off their volleyball season with a scrimmage at home. The Valley Heights community was invited to attend the event on Friday, August 23, and was encouraged to bring gatorade for the team to use throughout the upcoming season. The nineteen girls out for volleyball exhibited the progress they have made over the past week of practice through several of their favorite drills.
Head coach, Susan Steinfort, who has coached the Lady Mustangs for the past four years, was extremely pleased with how the evening played out. "I thought the evening went quite well. I received a lot of compliments on the hitting power our team possesses, as well as the tenacity of our junior varsity players." Coach Steinfort believes that a gatorade scrimmage is the perfect opportunity for the volleyball team to showcase their skills. "It gives the community a preview of the season ahead, as well as a taste of what our practices look like." When asked about the upcoming season, Coach Steinfort commented, "Our team strengths this year will be our experience (hitting, blocking, & passing), as well as our cohesiveness on and off the court." "The things I look forward to the most this season are the daily interactions I have with the girls, our team bonding activities, and seeing the improvement of our team over the course of the season."
Senior and varsity player, Shae Murk, is looking forward to the upcoming season. Taking over as the Right Side Hitter this season, Murk says this team is special. "This year, we bring so much talent to the table. With this being my senior year, the team means everything to me." Murk, like Coach Steinfort, thought the Gatorade Scrimmage was a success, and said, "Things went well, and we used a lot of different options."
The Lady Mustangs' season will officially kick off on Saturday, August 31st when they compete in the Marysville Tournament. Play will begin at 9 am at Marysville High School, and the varsity girls will face some tough competition. Then, the Lady Mustangs will turn around and begin regular season play on Tuesday, September 3rd in Frankfort.