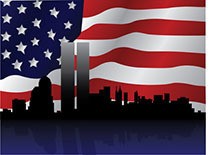 WHERE WERE YOU?
Emma Yungeberg
Friday, September 13, 2019
WHERE WERE YOU? 18 years ago 2,977 people lost their lives in the awful event we know as 9/11. On September 11, 2001 the United States was attacked in the worst act of terrorism this country has ever seen. Images of this event played over and over in the news and it was on the front pages of every newspaper world wide. This day has stuck in English teacher Mike Savage's head these past 18 years. " I was passing through the library of Linn High School on my way to check on students eating breakfast in the cafeteria and that's when I saw the second plane hit the South Tower." He remembers thinking that this was no longer a freak accident, but an act of terrorism.
Not only did this affect the adults but it was just as confusing and upsetting to the children as well. Jordan Broxterman was in 6th grade at the time of the attacks. " I remember I was in music class when the attacks happened and none of us knew about it until another student in a different class came in and said the World Trade Center had been attacked." Even though he wasn't sure what was going on and was confused how a plane could hit the towers, he knew that something was not right. " I was afraid if we were to go to war that my brother could possibly enlist, and that thought scared me."
Whether you were an adult, a kid, or not even born yet, this day will forever be a part of our country's history and in our memories.