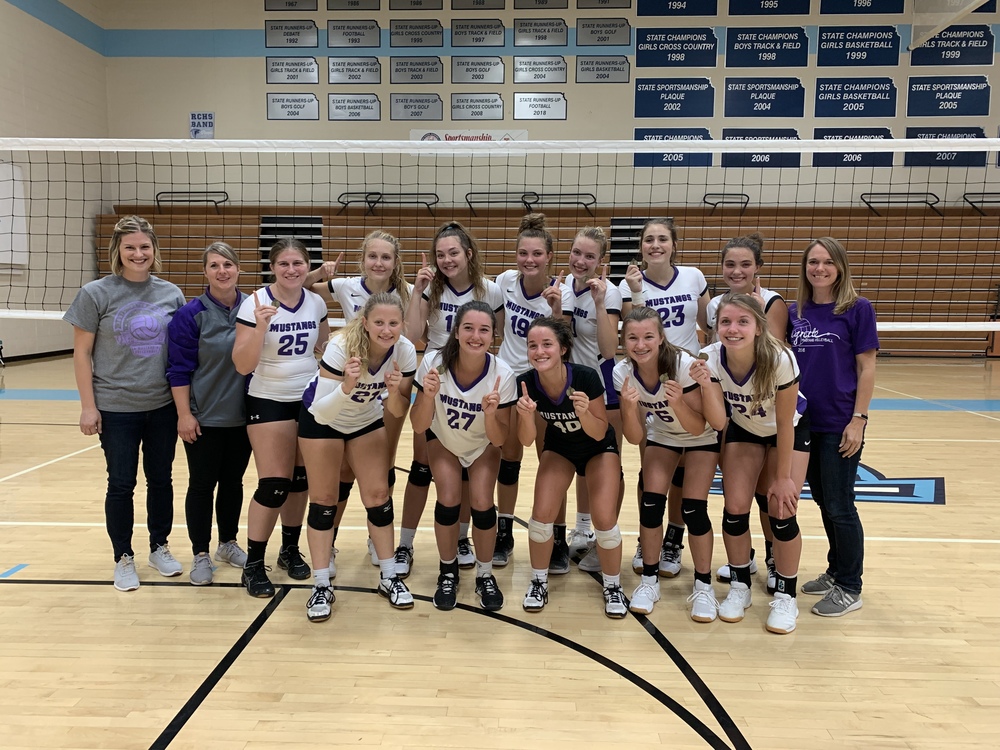 MID-SEASON CHAMPS
Sam Vermetten
Wednesday, September 18, 2019
The Lady Mustang volleyball team grabs gold at Riley County. Saturday, September 14th, the varsity squad traveled south to Riley County High School for a mid-season tournament. Pool play began at 9 a.m. The Lady Mustangs kicked off the tournament with their first win against the Holton Wildcats, in three sets. Then, after sitting out a game, the girls defeated St. Mary's, once again in three sets. Unfortunately, the Lady Mustangs suffered a loss to Chapman in the final game of pool play. They headed into bracket play as the second seed.
In the semi-final round, the varsity squad faced-off against Jefferson Co. North. (The Lady Mustangs beat Jefferson Co. North in the sub-state championship last season.) In the first set, the Mustangs easily defeated their rivals. In the second set, the Mustangs found themselves down 17-22. Despite odds, they came back and won, 25-23, claiming a spot in the championship game against Chapman. In spite of their loss to the Fighting Irish earlier in the day, the Lady Mustangs came out of the gate strong in the first set, claiming a victory. However, they lost the second set. The winner was determined in the third set, when the varsity squad regrouped. It came down to the wire, but the Lady Mustangs pulled out a win, the final score 26-24.
The year of 2006 was the first year Valley Heights played in the Riley County Tournament. That year, the Lady Mustangs won it all. Since then, our varsity girls have not brought home the gold. This is the first time in thirteen years. Senior, Kate Wanamaker, when asked about the victory said, "It was such an exciting day. I am so proud of how we played as a team. We earned it."
The Lady Mustangs' next tournament will be on Saturday, September 28, in Axtell.