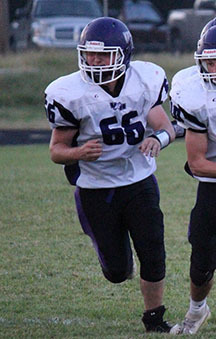 TAKE IT TO THE HOUSE.
Valley Heights Journalism Cam Beardsley
Tuesday, September 24, 2019
The average American moves 12 times in his lifetime according to www.mayflowertransit.com Conner House moved to Waterville, from a similar sized town, Elkhart, in south west Kansas. Conner says, "The school here is a lot different. The school is crowded at times, but everyone is very friendly." Conner is a sophomore here at Valley Heights. Austin House, a senior, is his older brother who is also enjoying the move tremendously.
Conner enjoys playing football. He enjoys being a part of the Mustang football program more so than the football program at Elkhart. "The team atmosphere is a lot better and the practices seem more enjoyable. The coaches are extremely nice and know a lot about the sport." He also has a cousin here in the 8th grade, Tyrel Wagner. The two of them are getting along and enjoy getting closer to each other. The transition was smooth and he made friends immediately through weights and football camp. He is enjoying the start of his first year here and plans to stay here until he graduates in 2022.
Article by Cameron Beardsley