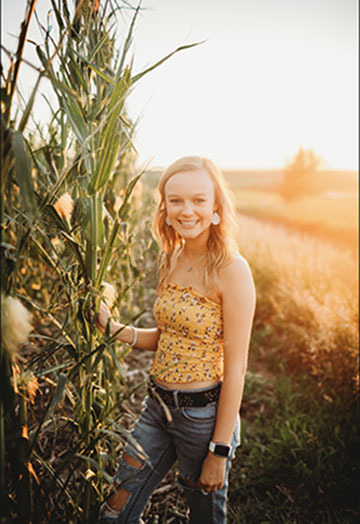 BE SOMEONE'S SUNSHINE.
Kennedy Stevenson
Monday, September 30, 2019
BE SOMEONE'S SUNSHINE. "Be someone's sunshine when their skies are grey." Megan Emily Jones, the daughter of Lee and Monica Jones, lives by this quote. Megan was born in Riverside, California, and moved to Waterville, Kansas, her 7th grade year. Megan has been involved in Cheer, Art Club, KAY, NHS, Volleyball, FFA, FCA, and StuCo. She has also held several leadership roles at Valley Heights, including Cheer Captain, Art Club Vice President, and KAY StuCo Representative. Megan accredits her success in high school not only to her parents, but to Mrs. Brandi Turner as well. "She has influenced me to strive to do good in school, with my grades and extracurricular activities. She pushed me to pursue what I want to do after high school."
Megan hopes to leave Valley Heights with a legacy of being supportive to everyone around her. Following graduation, Megan plans to attend Washburn University and major in Radiology. One day, she hopes to live in Kansas City while working as a Radiologist. Megan's confidence in things that she is passionate about will help her pursue her dreams.