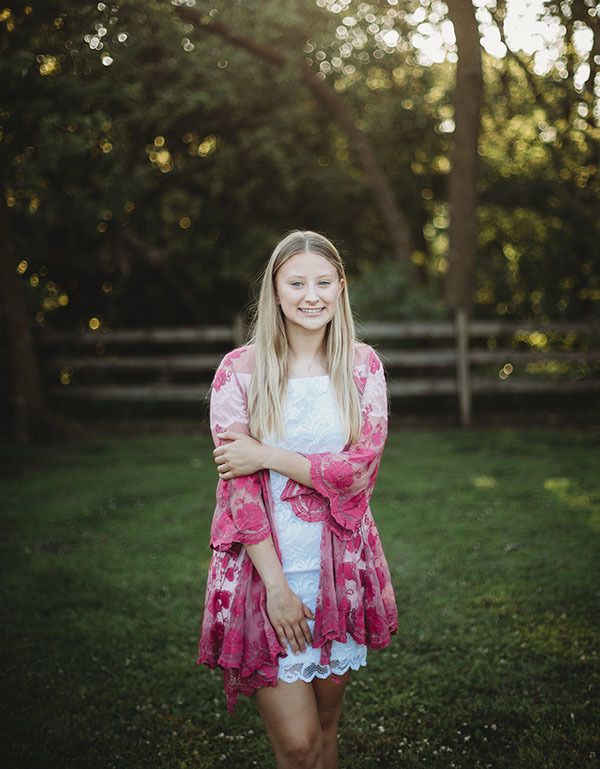 GO WITH THE FLOW
Sam Vermetten
Thursday, October 03, 2019
One quote that inspires senior, Katherine Wanamaker, is "go with the flow." Kate is the youngest daughter of Kenny and Beth Wanamaker. Her two older sisters, Megan and Brenna Wanamaker, have influenced Kate the most throughout her life. "They push me to do my best in all that I do, and they tell me to never give up," says Kate.
Kate has been involved in volleyball, basketball, and track over the course of her athletic career at Valley Heights. In addition to sports, Kate has also been highly involved in other extracurricular activities, including FCCLA, KAY Club, NHS, the All School Play, and Mustang Band. She has peer tutored for two years, been class secretary for two years, and attended FCA all four years of high school. Kate's favorite high school memory was her junior year at play practice, when Cole Coggins scared her in the basement of the opera house.
Something that sets Kate apart from other people is her unique and goofy personality. Another thing that is special about Kate is a mole she has in her right eye. Her favorite song is "Drops of Jupiter" by Train and she believes her greatest accomplishment was getting her CNA license as a sophomore.
After graduation, Kate's goal is to attend college to pursue a career in nursing, and after school, eventually work as a registered nurse. After leaving Valley Heights, Kate hopes to be remembered for her hard-working personality and drive to be the best that she can be.