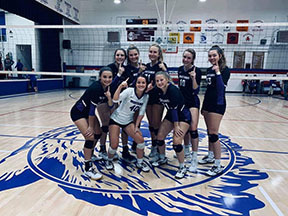 GOLD.
Kennedy Stevenson
Wednesday, October 16, 2019
The Lady Mustang volleyball team goes undefeated in the Twin Valley League to win the regular season championship. Last night, the varsity volleyball team swept the Hanover triangular to secure an 11-0 record in league. This is the first time in 11 years Valley Heights has gone undefeated in league play. "It's a great achievement, especially in a league as competitive as ours," says senior outside hitter, Sam Vermetten.
This Saturday, the Lady Mustangs will go into the TVL Tournament as the #1 seed. The tournament will be held in Onaga. Heights' pool will consist of #4 Hanover, #5 Clifton-Clyde, and #8 Doniphan West. Junior Emma Toerber says, "This weekend is really important for us. We're looking forward to getting some good wins to help our record for Sub-State."
The Lady Mustangs are currently seeded #1 in Sub-State, which will take place at El-Saline High School on Saturday, October 26. Official seedings and game times will be announced next week.