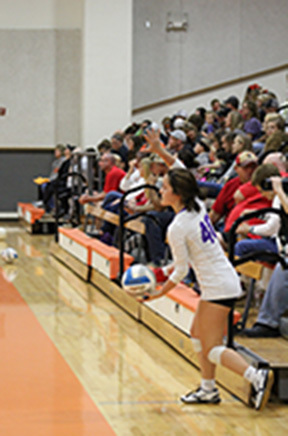 SEEING GOLD.
Samantha Vermetten
Tuesday, October 22, 2019
The Lady Mustang volleyball team secures gold at the Twin Valley League Tournament in Onaga. Saturday, October 19th, the varsity girls took to the court as the number one seed in the tournament. Pool-play for the Lady Mustangs began at 10 am, when they took on the D-West Mustangs. Valley Heights won both sets and then sat out a game before playing the Hanover Wildcats. This would be the fourth time this season the Mustangs faced Hanover. Again, the Mustangs took care of their competition in two sets, however, scores were much closer. Finally, in order to win in their pool, the varsity girls had to beat Clifton-Clyde. This proved to be more difficult than expected. The Eagles put up a good fight, taking the Mustangs to three sets. During the third set, the Mustangs refocused and won, the final score 25-13. Senior defensive specialist, Kate Wanamaker, commented on Heights' performance in pool-play with, "I think we fought hard, especially during our Clifton Clyde game. The long break before the match challenged us and made us better."
With a record of 3-0 in pool-play, the Lady Mustangs faced the second place finisher in the other pool: Wetmore. Junior middle blocker, Emma Toerber said, "We have an extremely competitive league. You can't overlook anyone." Because of this, the Mustangs brought their A-Game and defeated the Cardinals in two sets. The victory put them in the championship game, where they faced the Centralia Panthers.
"Going into the game, we knew that we would have to earn every single point. Our focus was 'next point, next set, next game," said senior libero, Kennedy Stevenson. The first set was a constant back and forth battle between both teams. The score was tied 24-24 when the Mustangs pulled away to win by two. During the second set, the Mustangs created a gap early in the game and won, 25-15. The Panthers were an extremely competitive team; beating them was a great achievement for the Mustangs. In addition, the victory earned the varsity girls the title of "League Champs."
The last time Valley Heights won the TVL Tournament was eleven years ago, in 2008. Sophomore middle, Emma Yungeberg, said, "Winning league was so much fun. It was also a huge confidence boost for this coming weekend."
The Lady Mustangs will step on the court once again, Saturday, October 26, in Brookville for the Sub-State Tournament. The varsity girls are currently seeded 1st, but the official bracket will be released Wednesday. Victory in Brookville would be a one-way ticket to the 2A State Tournament in Dodge City the following weekend.