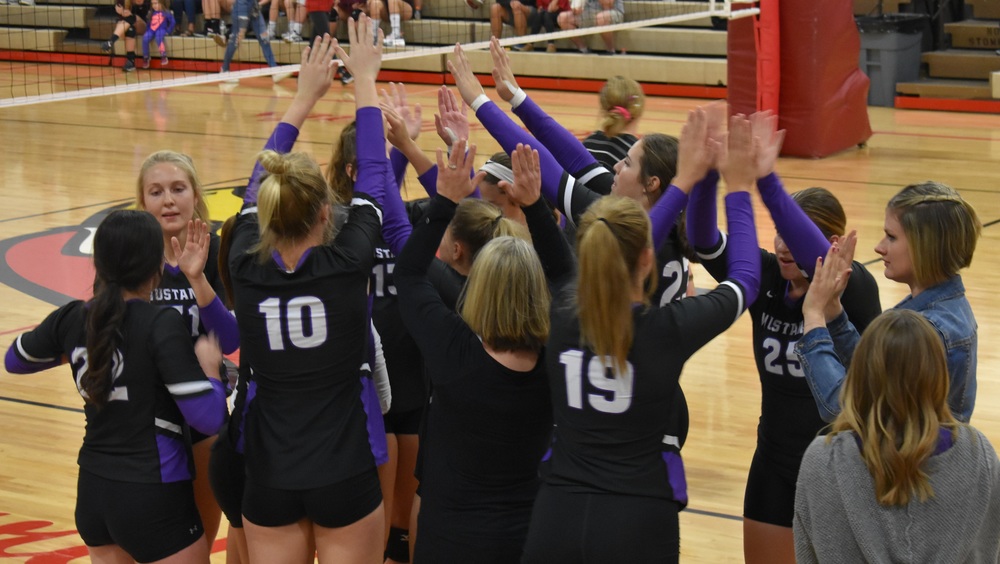 Volleyball Veterans
Valley Heights Journalism
Monday, October 28, 2019
Past high school and college volleyball players come to Valley Heights to help prepare the Lady Mustangs for Sub-State. A variety of former volleyball competitors made their way to the Valley Heights High School gym the week before Sub-State to practice with the high school volleyball team. Head Coach, Susan Steinfort, and Assistant Coach, Ellie Musil, contacted several guest players, some of whom they had shared the court with.
Sophomore, Emma Yungeberg said that, "It was extremely helpful to have the ladies come in and challenge us during practice. Coach tried to find someone from each position on the court to play against us. Macy (Parker) Trimble, who came Tuesday, played as a setter for Valley Heights during her high school career." Along with Macy (Parker) Trimble, Valerie Hecht, Terra (Hargrave) Bruna, and Kayla Smith visited the high school.
Coach Steinfort said, "It was neat to see these girls come back and practice with a new generation. They could still play well, years after graduating. We were also able to connect as current and past players."
"I really enjoyed having this group come back and play against us. Each one challenged us in a different way. Macy was, and continues to be, an amazing setter, and Valerie, Terra, and Kayla pushed the team in blocking and hitting," said senior player, Kate Wanamaker.
Article by Sam Hardin