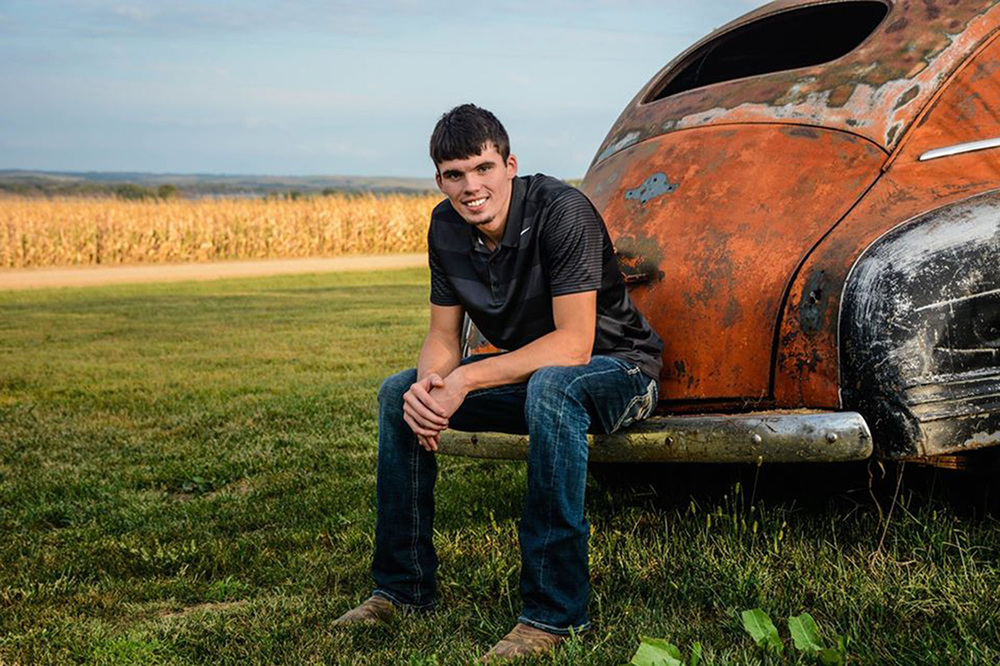 Huntin' Fishin' and Lovin' Everyday
Valley Heights Journalism Cameron Beardsley
Tuesday, November 12, 2019
"It's not how hard you get knocked down, it's whether you get back up." This quote by Vince Lombardi, inspires Trey in his everyday life. Theodore Joseph Martin III has been challenged with one of the toughest obstacles you can face in high school. Trey Martin tore his MCL and Meniscus in his knee in only his second game this year in football against Horton. Trey loves playing sports and loves to be around the guys. He was heartbroken to be out for the rest of the season but hopes to be back for basketball. He is taking a positive outlook on his senior year, but is ready to be out of school.
Theodore Joseph Martin III was born on September 3, 2001, and raised in the small town of Blue Rapids, Kansas by TJ. Martin and Sarah Fairchild. Trey has lived in Marysville, Westmoreland, and Blue Rapids during his schooling years. While in high school, Trey has participated in football for four years, Basketball for three years, and track for two years. He was also the football captain for one year and basketball captain for one year. Clubs that he has participated in are FFA for three years, Band for one year, and vocal for two years.
"Huntin' Fishin' and Lovin' Everyday" is the song that describes Trey best. His Father and Grandfather have influenced him the most in his life, by showing Trey everything he knows. Outside of school, Trey hunts and fishes on his free time. Trey thinks that his personality and his special traits are what makes him different from other people. Trey is very family oriented and a great listener. Trey is proud of the fact that he chooses who he is and that no one can change that. When Trey leaves Valley Heights, he wants to be remembered for his way to make people laugh and his great personality.
Trey's favorite memory is when he was walking down the halls of the school swinging his blender bottle, and hit Sam Vermetten in the eye causing her to bleed. After graduation, Trey plans to join the railroad. His goal is to become a Volunteer firemen along with maintaining his job on the railroad.