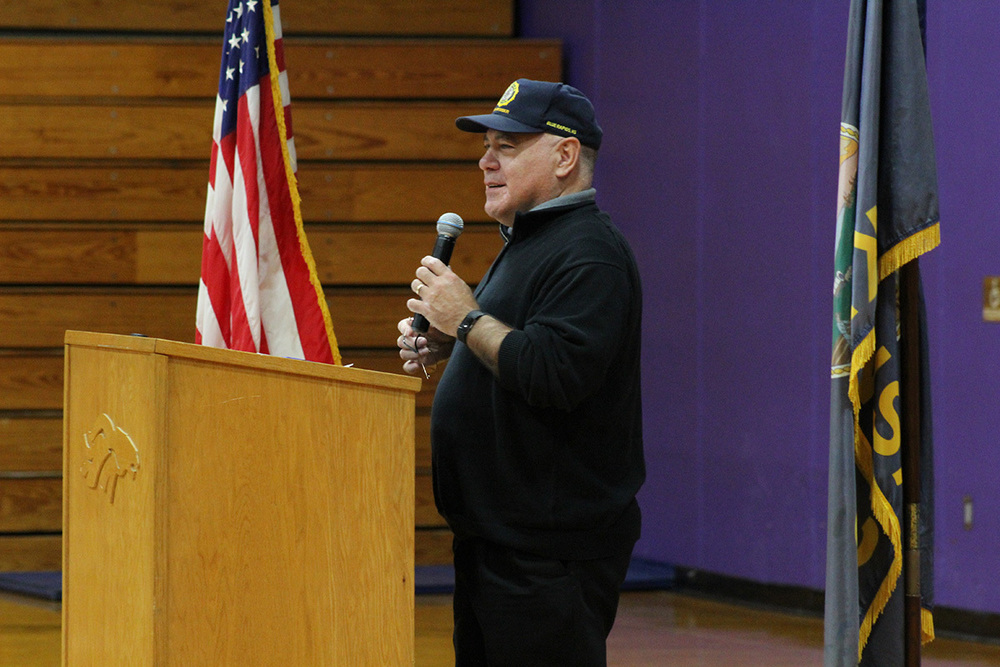 HOME OF THE FREE
Valley Heights Journalism Emma Toerber
Wednesday, November 13, 2019
"God bless America, land that I love, stand beside her and guide her through the night with a light from above." This past weekend people all over the United States celebrated Veterans Day. Monday, November 11th, KAY's hosted a Veterans Day ceremony for the Veterans in the communities of Waterville and Blue Rapids. There were cinnamon rolls, coffee, and juice that was provided for the Veterans.
The ceremony started with the Veterans introducing themselves and informing the staff and students what branch they served in and how many years they served Mr. Jim Oatney went on to tell the story of his brother, Corporal Allen Oatney, serving in the Vietnam War. Mr. Jerry Zaya's then told the story of Gene Meyers, who also served in the Vietnam War, who did not make it back home either. Both men are remembered for their service for others during the war. Although they didn't make it home, they made it possible for all of us to live in peace today. In remembrance for these two men that served our country, the highway that connects Waterville and Blue Rapids will be named after them, which will be happening soon.
The ceremony was closed with Abigail and Audra Stienfort singing "Private Malone." The song was perfect for the occasion. Showing how many dreams of the soldiers were crushed, but they made our dreams possible. Veterans Day is indeed a day that must be celebrated, to recognize all those that have given their lives away to let us live.
This year marked the 100th Veterans Day that the United States has celebrated, and we as community members of Waterville and Blue Rapids, thank those who served and are still serving us today.