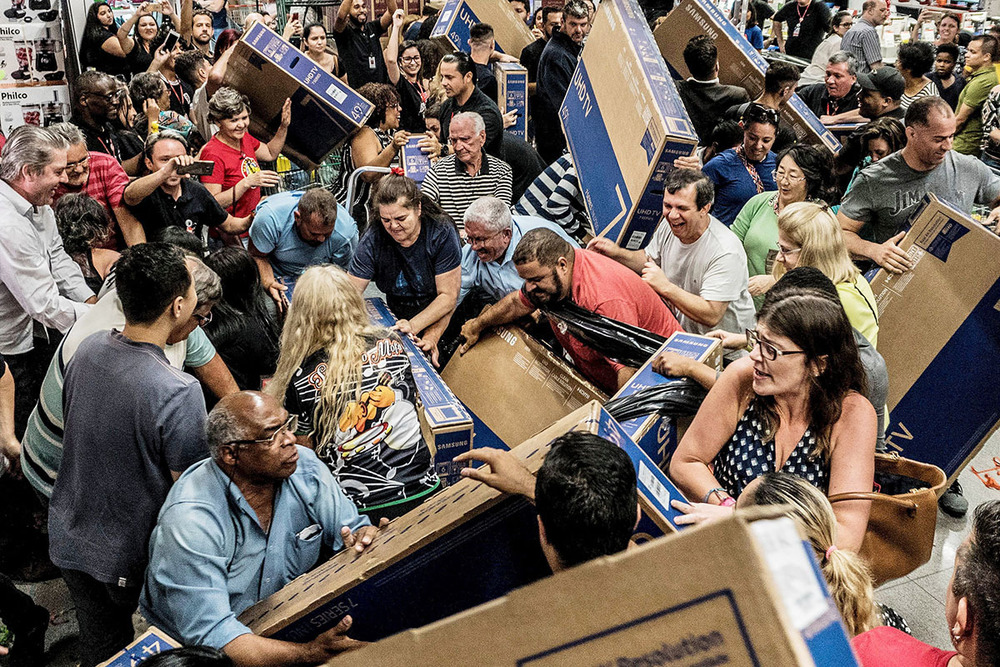 BLACK FRIDAY.
Kennedy Stevenson
Tuesday, November 26, 2019
Black Friday: the whole family is huddled around the remnants of Thanksgiving dinner to scour advertisements; mom, grandma, and aunt Karen are running on coffee and fumes; unruly crowds of shoving parents horde parking lots; most importantly, deals to die for on this year's hottest toys, clothes, and electronics are available to whoever can get there first. If one were to look down upon the mayhem, it may appear that outlet malls have been overtaken by anarchists, or that total chaos has emerged from some unknown force that is overtaking retail and department stores.
Black Friday is one of the biggest days of revenue for stores across America. According to Miriam Tremling, a content marketing leader at Pixlee, 174 million Americans participated in the Black Friday rush last year. On average, each person spent around $358, bringing Americans to a grand total of $62,292,000,000 ($62.292 billion) spent in just 24 hours. Black Friday shopping has become a staple of Thanksgiving tradition for millions of families across the United States. Some families even go as far as cancelling or postponing the traditional Thanksgiving meal in order to organize storefront campouts in freezing temperatures. A former employee at the popular crafts store, Jo-Ann Fabric, recalls a particularly memorable Black Friday experience. "An 80-year old woman tackled and maced another woman over pink, wool fabric that had breast cancer awareness ribbons embroidered into it. She wound up getting kicked out of the store." Another Black Friday horror story comes from a former Best Buy employee, who says a woman relieved herself in a dryer that was on display for fear she would lose her spot in line for a plasma TV on sale for $799. American citizens have forfeited dignity and uprooted an entire holiday for the sake of saving a buck or two on Christmas gifts. Surely the "Black Friday hype" has to live up for something, right?
Contrary to popular belief, Black Friday is not the "cheapest day of the year." In fact, depending on what items you plan on gifting, certain goods go for cheaper in certain months. Looking for a perfect gift for that special someone? According to the International Diamond Exchange, jewelry is sold at its cheapest rates in the month of January. Computer monitors and other electronics often hit their lowest prices in the month of February, as told by popular retailer PCWorld. Trying to find a tasteful chair for the office or that empty corner in your living room? The month of May proves to be the best time for furniture sales. How about a gift that keeps on giving? The Livestrong Foundation says that gym memberships and workout equipment sell at the lowest prices in June.
Wait, what about Black Friday? Here's the truth: the deals you will get are NOT the best you can get. Often times, companies will anticipate and markup the price of highly sought after goods just before the Holidays. This way, when the Holidays roll around, they can mark down those items so it seems like you're getting an unbeatable discount, when in reality they could still be making 70-90% profit of the item's original price.
As Black Friday inevitably creeps up on us, I beg you to remember two things. The first being to keep in mind that getting ahead of the game, or going Christmas shopping earlier, will wind up saving you more money than Black Friday ever will, and second, to ask yourself; is the pink tricycle REALLY worth going to the bathroom in the dryer?