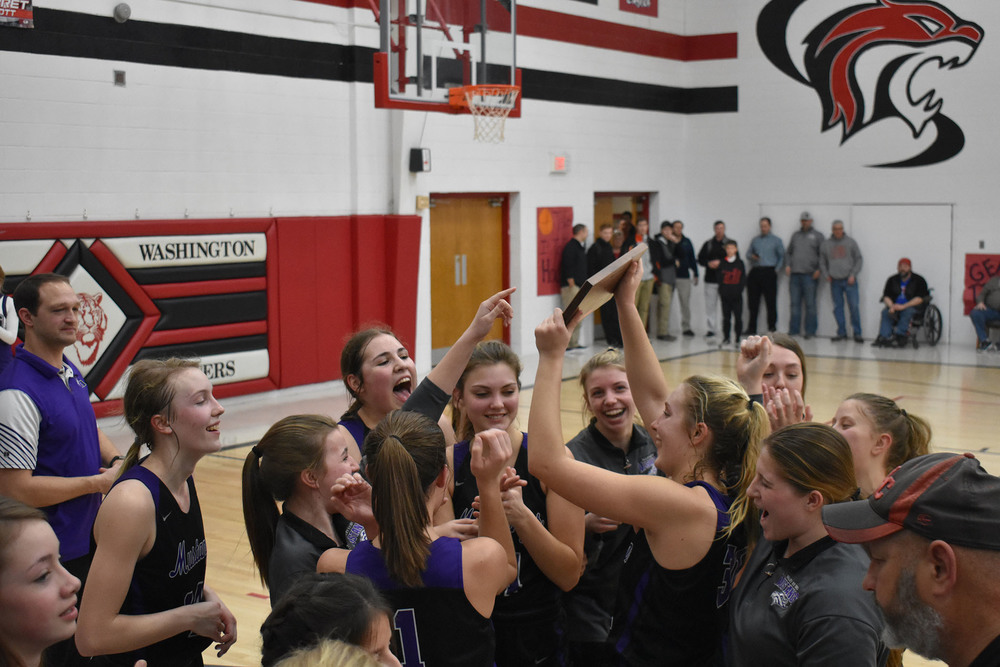 BRING OUT THE BROOMS
Valley Heights Journalism Emma Yungeberg & Jackson O'Toole
Friday, January 31, 2020
BRING OUT THE BROOMS. The Valley Heights girls' and boys' basketball teams sweep the TVL basketball tournament with a combined record of 7-0. This marks the first time in Valley Heights history that the boys and girls have won their respective championship games in the same year. It is the third championship for the girls and just the second for the boys.
The girls took on the Centralia Panthers during the championship game Saturday night. This championship matchup is a repeat of the volleyball TVL tournament where the Mustangs defeated the Panthers in 2 sets. The girls were ready to compete and hopefully take another TVL championship this year. The Mustangs jumped out to an early lead and were able to hold the panthers off the entire game. Senior Guard, Kate Wanamaker said, " I knew from the very beginning we were going to win. I was very confident in our team and our abilities." The girls ended the game with a 53-38 win to gain their second TVL championship this year. Not only were the girls excited to win a championship of their own but they were excited to cheer on the boys who were also competing for first place. " It was super exciting that both teams won and it's something that has never happened at our school before and I'm glad I could be a part of it," says Wanamaker.
To complete their perfect record in the tournament, the boys were faced up against the 7th seed Hanover Wildcats. Junior, Kadin Claycamp, was an essential piece to the recent success of the Mustang boys. The championship game against Hanover would mark just his third career start. "I think the hard work that I put in at practice really helped prepare me for being placed in a situation like this." After a slow first quarter that ended with 11 total points, the boys built a solid lead in the second and went into halftime with a 21-11 lead over the Wildcats. The boys came out tough in the third quarter and only allowed 6 points. Once the fourth quarter rolled around, the boys could see a victory in the near future. The game ended with a 48-33 Mustang victory. Jackson O'Toole led the scoring for the Mustangs with 19 points. Cameron Beardsley added another 12 to seal the victory. This is only the second time the boys have won the TVL Championship, the last time being in 1998.