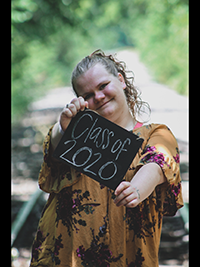 NOTHING IS IMPOSSIBLE.
Valley Heights Journalism
Tuesday, February 18, 2020
Gates Marie Carder says nothing is impossible in life, everything will seem impossible until you try it, it just needs your willingness to do it. She uses this quote to push through the days and nights to achieve her goal of becoming an RN at the Blue Rapids nursing home. Gate is the daughter of Jeannie and David Carter. She has one sister, Shyanne. Her dad David is her biggest influencer. To her he always pushed her to do her best and to never settle for the bare minimum.
Gates has participated in 3 years of volleyball, and 2 years of art. A memory that she will never forget is doing the color run with Mrs.Haefke. What sets Gates apart from everyone else is that she will help anyone. She will be there when no one else is for you and help you so you can do great. She helps in the community and at her church. She loves to help her grandma and grandpa when they need it. Her favorite songs she loves to listen to is "Who Gonna Fill Their Shoes," by George Jones. What Gates wants everyone to know is that nothing is impossible.