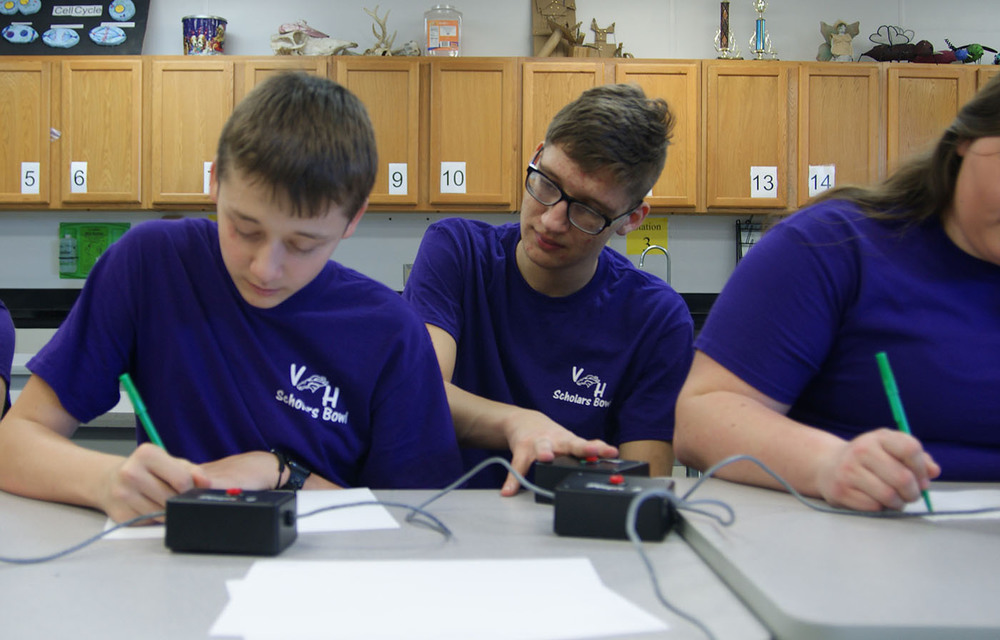 THUMB WARRIORS.
Valley Heights Journalism
Tuesday, February 25, 2020
The Valley Heights Scholar's Bowl team wraps up their season after competing in the regional tournament at Wabaunsee. This season, the Varsity team consisted of Kennedy Stevenson, senior, Rylie Borgerding, senior, Sophie Brungardt, junior, Aiden Nemechek, sophomore, and Claire Nolte, sophomore. The Junior Varsity team was made up of Robbie Stryker, sophomore, John Haefke, freshman, Angela Whitaker, freshman, Donavin McClung, freshman, Maecynn Gunn, freshman, and Emma Brungardt, freshman.
The team puts their brains to the test at each practice bright and early every Wednesday morning. "Scholar's Bowl in itself is a unique activity. There aren't very many people who understand how the meets work, and the knowledge that it takes to compete. It really does take a lot of mental strategy and prior knowledge to be able to answer the questions," says Aiden Nemechek. Starting in early November, the team has competed in several meets. With the majority of the team being underclassmen, filling up the varsity positions was difficult. "The younger team started off very well. Their first tournament was at Blue Valley, and they brought home 2nd place. They continued to be successful throughout the season, showing a lot of promise for the years to come. Varsity competed well, and came very close in many rounds. We didn't get as far as we wanted to, but we have some new insights for this next season." says coach Millie Laughlin. Next year, the team looks to return 9 of the 11 members that competed this year.