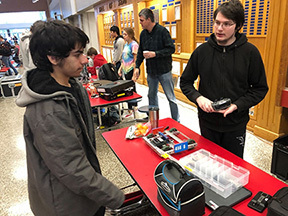 STATE BOUND.
Kennedy Stevenson
Wednesday, February 26, 2020
Freedom Geniuk, senior, and Kris Jamieson, freshman, have earned a bid to the Kansas State Robotics meet. Robotics, a relatively new activity within the district, is a unique and growing sport in the state of Kansas. Competitive VEX robotics tournaments, which are the type of meets the Valley Heights teams participate in, have been in existence for only 15 years. Valley Heights makes up 5 of the 110 teams within the entire state of Kansas. "Robotics is based on STEM. It helps kids get more involved with hands on learning, and encourages creative thinking while simultaneously relying on teamwork and problem solving skills to compete. It is a totally underrated sport, and isn't as widely known as football or basketball," says senior team member, Freedom Geniuk.
Robotics was introduced to Valley Heights after Mrs. Millie Laughlin received information about the sport through one of her former colleagues that she met while working for NASA. "It is so interesting to see how my students grow through their experience in robotics. For example, Freedom, one of the team's seniors, has not only grown in his ability to think critically, but I have watched him become a leader that cares more about everyone around him being successful. Robotics helped him with his mental stamina, as well as his ability to 'see the bigger picture.'"
Even though the sport is still growing throughout the state, it is no small feat that 498B, the name of Freedom and Kris' duo, qualified for the state tournament. "We made it to state because we had a qualifying skill score in Kansas throughout the entire season. This is only my second year in robotics, and we competed in a skills competition just once this year. The fact that we were able to qualify after one try was really cool." There are two types of competitions that teams can compete in; skills and alliance. In an alliance competition, four teams make up a round, with each team being paired up to make it like a 2 v. 2 situation. Those teams then work together with their robots to beat the other team at a specific task, like stacking blocks. The first and second place teams in alliance competitions qualify for state. In a skills competition, one robot works against the clock to complete a task, earning points for efficiency and other factors. Different than most other sports, though, teams who compete in a skills competition find out at the end of the season whether or not they qualified for the state tournament by receiving an official invite. When asked about his feelings regarding the state meet, Geniuk replied, "Honestly, I was completely surprised that we qualified. I am actually very excited to go to state. I've never had the chance to compete at the state level in anything, and I know this is a once in a lifetime kind of thing. I am really proud of how our season went, and I'm eager to see what we can do next week."
The State Tournament will be held on March 2nd in Hutchinson, Kansas. Good luck 498B, the Valley Heights Community is rooting for you!