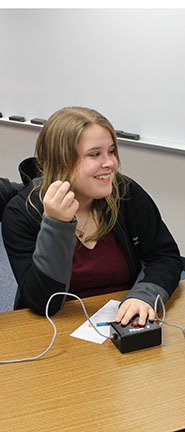 BUZZING INTO A NEW YEAR.
Konner Treff
Tuesday, October 17, 2017
BUZZING INTO A NEW YEAR. Fifty-seven percent of children between the ages 12 to 17 years old participate in at least one after-school extracurricular activity, according to a new report released this month from the U.S. Census Bureau. Every year players on the scholar's bowl team buzz in their answer to anything from a math question to a current events question. On Wednesday, September 27th, the scholar's bowl team started buzzing their way into a new year as they held their first practice to see how many members are back, and also to introduce new members on the way things work. " This first practice helps new members understand the rules, as well as the way we run things. " said Skyler Saunders, Sr. This year's team is composed of three seniors; Alex Hardin, Alli Jones, And Skyler Saunders, two juniors; Konner Treff and Maddie Walsh , one Sophomore; Kennedy Stevenson, and two Freshmen; Sophie Brungardt and Colton Crook . The varsity team will be competing on Monday October 23rd at Hanover.
Article By: Konner Treff