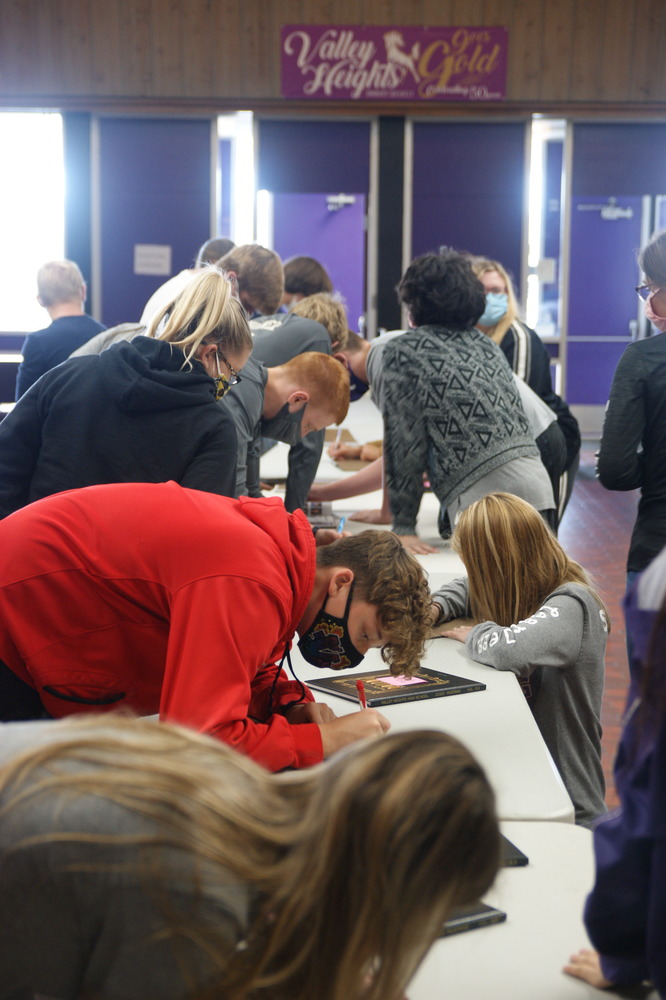 SIGNING OUT OF THE 2019-2020 SCHOOL YEAR
Valley Heights Journalism Maddy Vermetten
Thursday, October 01, 2020
SIGNING OUT OF THE 2019-2020 SCHOOL YEAR. "Yearbook signing is just a time to reminisce on last year's memories, and a good opportunity to leave a note or memory in someone's yearbook," says Emma Toerber. Tuesday, September 22, the Valley Heights journalism staff hosted the annual yearbook signing for the high school students. This year's signing looked a little different. "Normally it is an open event, but this year it was organized by classes to cut down on COVID risks. It was also during the school day, allowing all students the opportunity to sign other students' yearbooks," says Mrs. Coon, Valley Heights Journalism sponsor.
This year's yearbook theme was "The Roaring 20s". Emma goes on to say, "This is definitely my favorite yearbook. I put so much effort into making it and it was really fitting for the year's situation." With COVID hitting right in the middle of the year, the journalism staff had to work hard to continue finishing the yearbook. "It was extremely hard to work on from home, and some of the j-staff members came and worked on the yearbook all summer." states Mrs. Coon.
The 2019-2020 yearbook is still available for purchase for $45. You can call the high school if you would like to purchase one.
Article by Maddy Vermetten