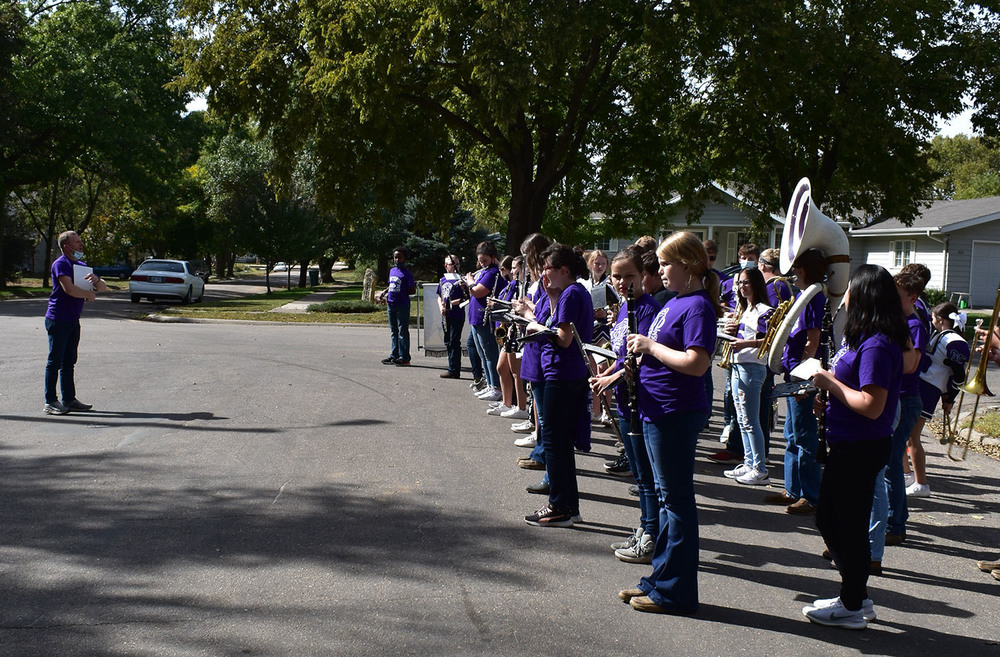 Marching Into a New Year
Valley Heights Journalism
Tuesday, October 27, 2020
Like soldiers, they stand tall and confident underneath the bright lights. A cry rings out across the field, "Ten hut! Ten hut! Mustang Proud!" The Valley Heights Marching Band was brought back to Valley Heights by Ben Worcester, bringing a new type of school spirit to the community. Mr. Worcester, pronounced WUUS-ter, is a first-year teacher at Valley Heights, directing the junior high and high school band and choir. From a young age, Mr. Worcester loved music and learned to play piano and trumpet. After high school, he majored in music education at Kansas State University. Mr. Worcester now lives in Manhattan with his wife, Sharyn, and their seven-year-old son, Harley.
He drives to Valley Heights to teach a total of 84 band students, 19 vocal students, and nine History of Rock and Roll students. This year he decided to bring to the Valley Heights community one of his favorite high school activities, marching band. Mr. Worcester has pushed his students and is very proud of how much they've learned through this new experience. "It is a lot different from what we [band members] have ever had to do," says senior and drummer, Jackson O'Toole, "but when you are out there on the field performing, all the effort is worth it." Mr. Worcester mentioned, "What I like about marching band is that we can all be one school, no matter what activities we are in. It's really fun to see that type of school spirit."
If you want to catch the marching band in action, this Friday, October 30th, they will take the field one more time to lead the Mustangs on to victory.
By Abigail Steinfort