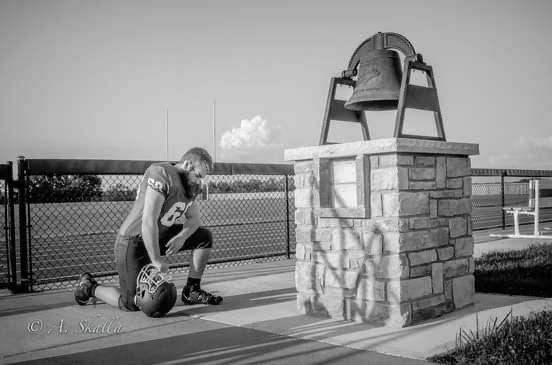 NO SUCH THING AS DEFEAT.
Valley Heights Journalism - Maddy Vermetten
Friday, January 22, 2021
NO SUCH THING AS DEFEAT. "I never really liked the word best. People create so many ways to measure and quantify somebody through statistics and tangibles, but often they leave out the intangibles. Trying to compare two individuals who have infinitely many differences would be as if trying to compare two stars. They are both similar, but there is so much more depth, intensity, and heat to each of them individually. That's one of the reasons why I value physical activity so much. It allows me to see who people can be, rather than who others tout them to be. This is another reason I value football, as it teaches players so many different things depending on their personal experience." -Colton Crook
Colton Lee Crook is the son of Kristina and Jeremy Crook. He has both an older sister, Aaron, and a younger sister, Taylor. Throughout high school, Colton has been involved in several extracurricular activities, including Journalism, FFA, and Scholars Bowl. Along with that, over the past four years, he has also participated in Football and Track.
Colton's favorite high school memory is his junior year. "As a whole, it was a breakout year for me. I solidified myself in football, grew physically, mentally, and emotionally, all the while pushing to be better," he said. This is a prime representation of Colton and how hard he works. Following this same theme, Colton's advice for underclassmen is to work hard. He says, "I am a firm believer that what you put in is relative to what you get out, and I also believe that the best feeling you can have is when your hard work pays off." Those who have impacted Colton's life the most include his family, coaches, teammates, teachers, friends, and so many others. "I firmly believe that without them, I wouldn't have grown into the person I am today," said Colton.
After Colton graduates from Valley Heights, he plans to continue his academic and football career at Sterling College in Sterling, Kansas. Colton plans to major in criminal justice.
As Colton continues to grow and leave this community he wants to be remembered as someone who tried. He says, " I know there were some things I fell short in, but I still never stopped competing." Colton's favorite quote is, "In life, you will meet many types of people. If they stand behind you, protect them. If they stand beside you, respect them. But if they stand in your way, you must defeat them." Colton says, "To me, this quote is a good representation of the value of respect and competition. I believe that they are two sides of the same coin."
Article by Maddy Vermetten