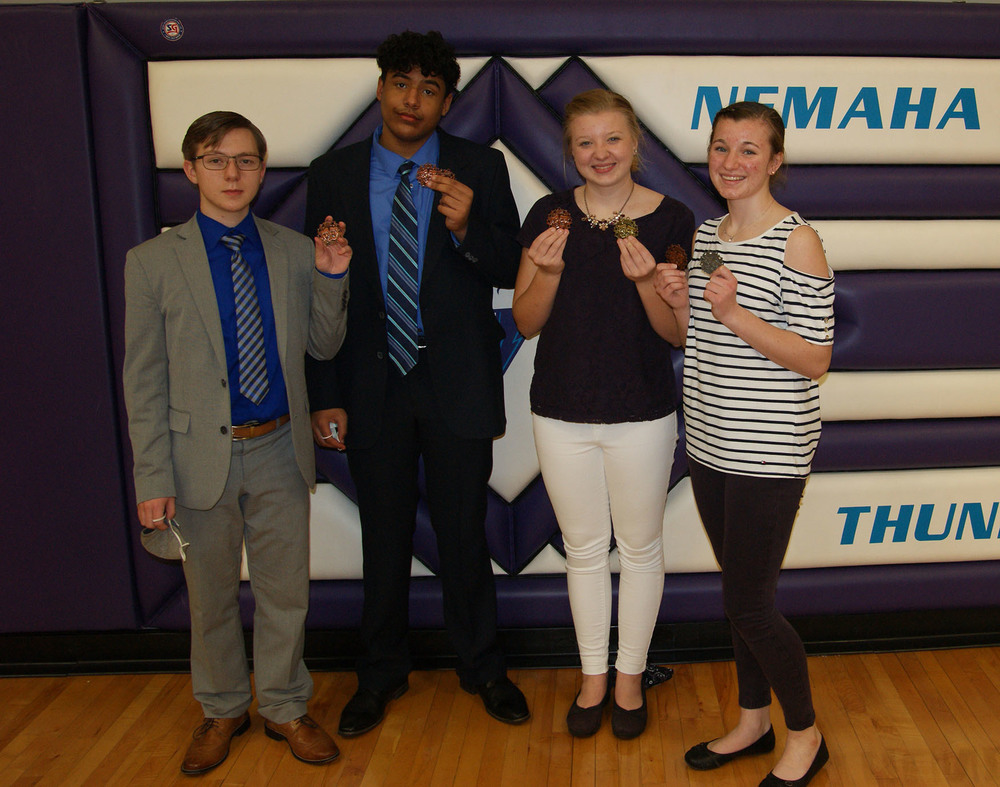 MEDAL MANIA.
Valley Heights Journalism
Tuesday, February 09, 2021
MEDAL MANIA. Braving the snowy weather, the Valley Heights Forensics Team headed to Nemaha Central last Saturday for the first forensics meet of the season. With COVID it has been difficult to find schools willing to host in-person meets. Forensics coach, Mrs. Coon, says "Everyone has had to adapt with the circumstances, but we are doing all we can and are finding new ways to perform so we can have a season." A small group was brought to Seneca, consisting of Aiden Nemechek, jr., Abigail Steinfort, jr., Audra Steinfort, fr., and Tyrel Wagner, fr. Aiden shares, "Though the early mornings and long days are exhausting, being able to get out to perform and spend time with your team makes it all worth the effort."
The two freshmen thoroughly enjoyed the experience and are looking forward to what the rest of the season brings. "The Nemaha Central meet was very nerve-wracking," explains Tyrel, "but after taking a deep breath and getting the first round done I learned to be confident in my piece and my ability as an actor." Audra adds, "After this first meet, I have learned that Forensics is good at getting me out of my comfort zone. I was able to meet a wide variety of people and was impressed at how helpful and encouraging all of the competitors were towards each other." After two rounds and finals, the team brought home five medals and had a strong start to the year. Mrs. Coon is glad to have been able to start the season with a traditional meet and is excited to see the success her small group will have.
Audra 1st Place Prose (State Champs Qualifier)
Abigail 2nd Place Solo Acting Serious (State Champs Qualifier)
Audra and Abigail 3rd Place Duet Acting
Aiden and Tyrel 5th Place Duet Acting
Tyrel 6th Place Poetry (State Festival Qualifier)