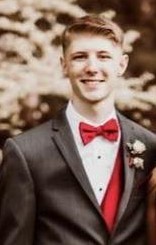 GREATER LOVE.
Valley Heights Journalism
Wednesday, April 28, 2021
GREATER LOVE.
"Greater love hath no man than this, that a man lay down his life for his friends." John 15:13. Joshua Whelan was born September 12, 2002, and has always placed importance on the well being of those around him. Josh's includes his mother and father, Julie and Paul Whelan, and his brother Jacob. When asked about future plans, Josh responded "I see myself as a firefighter paramedic in the state of Texas or Florida." Josh has undergone EMT training, works as an EMT, and currently has plans to become a combat medic in the Army.
"Determined and successful." is what Josh would like to be remembered as when he leaves the Valley Heights community. Rightfully so, as during his years at Valley Heights Josh has been very much involved in extracurricular activities. Whether it was attending an FFA event, participating in Art Club, the All School Play, Stucco, or FCCLA, Josh was always doing something. Josh was an FFA officer and played a major part in the organization's representation in our school. Josh's participation wasn't limited just to clubs however, as he played on the football team for a year. Josh has always been very involved.
"Chillin at home with a bunch of food and great people." Josh answered when asked what his ideal Friday night would be. Upon being asked about any advice he might have for younger students, Josh simply said, "Try to turn in work on time." It was this straightforward attitude that made many appreciate Josh and his ability to communicate.
Article By Colton Crook