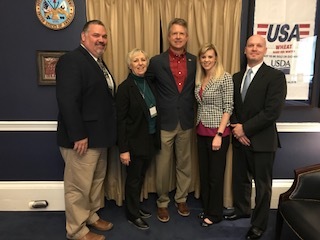 Lawmaker will tour Kansas Enrichment Network afterschool program
Dinah Umscheid
Wednesday, May 02, 2018
Lawmaker will tour Kansas Enrichment Network afterschool program in Clay Center along with Tony Yungeberg, 21st Century Community Learning Center Program Director on Thursday, May 3rd.
Project LEAD, an afterschool program at Lincoln Elementary in Clay Center, along with the Kansas Enrichment Network, will welcome U.S. Rep. Roger Marshall, R-Kan., for a tour of the 21st Century Community Learning Center afterschool program. The event, planned for 3:15 p.m. Thursday, May 3, will highlight enrichment opportunities being offered to the youths in the community.
Accompanying the lawmaker will be Edith Sorensen, program director of Project LEAD, 21st Century Community Learning Center Afterschool Program, and Tony Yungeberg, Kansas Afterschool Ambassador and Camp Exploration program director, Valley Heights School District 498.
Project LEAD is one of 57 federally funded afterschool programs that the Kansas Enrichment Network supports across Kansas. The Kansas Enrichment Network, housed within the Center for Public Partnerships & Research at the University of Kansas, works to ensure that all Kansas youths have access to safe, affordable and high-quality out-of-school time learning.
The mission of 21st Century Community Learning Centers is to promote student achievement and prepare students to compete on a global scale. Specifically, the program targets high-poverty and low-performing schools that may need extra support.