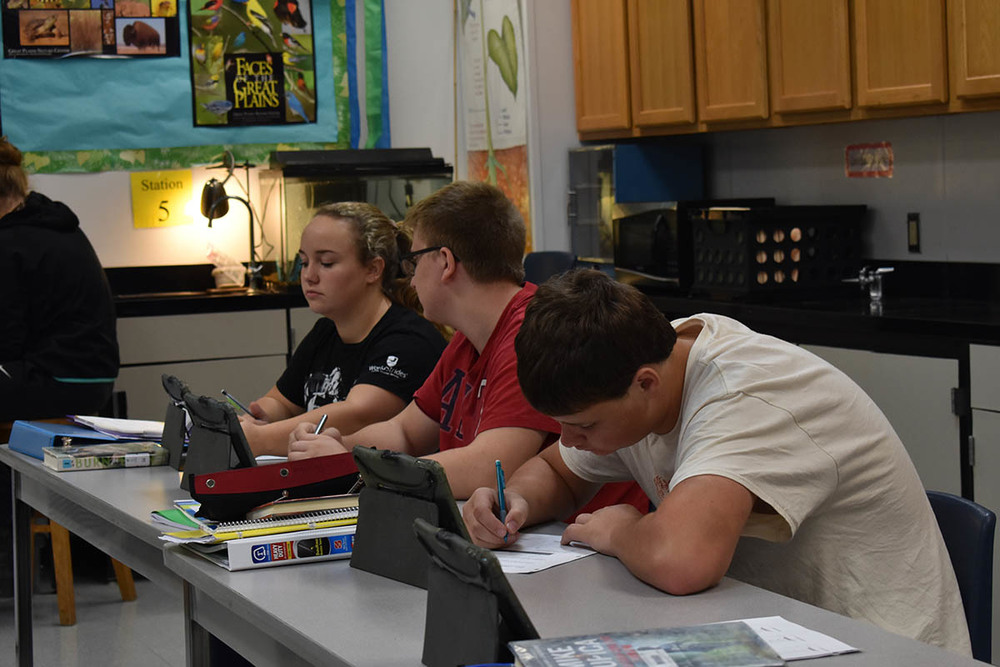 NEW PROGRAM, NEW PEOPLE, NEW SCHOOL YEAR.
Valley Heights Journalism
Thursday, October 11, 2018
NEW PROGRAM, NEW PEOPLE, NEW SCHOOL YEAR. Every year things change and evolve to make the school better. This year is no different. These changes include the new seminar program, a new lunch program, and a few new faces.
The seminar program pairs students with a teacher/mentor a couple days out of the month. During this time students work on their portfolios and set goals personally, academically, and socially. Sharia Cooney, Junior, said, "I like how we created a portfolio together. I wish that we could have had this program when we were younger, it would have helped us find things we need instead of scrambling to find them now."
Our new teacher faces include Misty Wren and Susan Steinfort. Misty Wren moved here this past summer from White City where she taught grades 8 through 12 for 5 years. She has been married for 12 years, and has an 18 year-old stepson and two dogs. When asked what she wants her students to know, Mrs. Wren stated, "I want them to know that I love teaching teenagers, and I like having a laid back class but it all depends on their behavior."
Susan Seinfort has lived in this community almost all her life. The only time she wasn't here was when she went to college. Mrs. Steinfort has four kids; Freshmen, Abigail, 7th grader, Audra, 3rd grade, Leah, and 1st grade, Ethan. She has also been married to Kenny Steinfort for 19 years. This year isn't her first year teaching. Mrs. Steinfort taught for a single year 5 years ago. When asked if coaching and teaching is hard to do at the same time, Steinfort said, "I feel that I can't put the time I need into either teaching or coaching. I want to give my students enough time with me and also give the same amount of time to my players." She wants her students to know that this year is almost like her first year teaching all over again. She just needs a little time to figure out how everything works.
The lunch program this year involves menu options and many of them. Everyday there are at least three choices to pick from. Melia Crowder, 9th grader, says, "I really like having more options for lunch. Although I haven't tried the Chicken Alfredo, I'm looking forward to it." The teachers also like the new lunches. Mrs. Wren said, "I really like the variety to pick from."