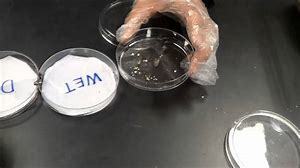 Focus on Biology
Valley Heights Journalism
Thursday, October 11, 2018
Every year, the Sophomore Class complete an Armadillidium Lab. This year's class of 2021 is no different, as they choose a problem to test, gather materials, and conduct the experiment. For those who don't know, the Armadillidium, better known as roly-polys, thrive in moist climates and damp soils. This made collecting them easier with the recent rain fall. Sophomores Shyanne Carder and Jeremy Neff were partnered together for their analysis. Shyanne said, "Our experiment was to test if the CO2 levels would affect the Armadillidium's activity." She described their results as being successful. "The roly-polys' activity was affected by the gas, returning to normal afterwards".
"We chose to do a lab involving color", said Cesar Aguirre, partnered with Cameron Beardsley, both sophomores. "It turns out that the roly-polys are attracted to darker foods". Cesar goes on to say, "I had to collect them when it got dark out, since they're active during the night. It was hard. As soon as I shined the flashlight, they all scattered." Kaitlynn Chilson, sophomore, said that she was glad they completed the lab. "This experiment taught us the basics of the Scientific Method, and using roly-polys was fun".
As soon as the lab was completed, the groups released their test subjects outside the Valley Heights high school. "It's kind of cool being a part of the Valley Heights School that has completed this lab, it's like a tradition", said sophomore Jeremy Neff.