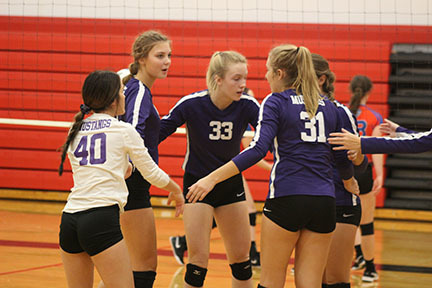 PLAY ON.
Valley Heights Journalism
Wednesday, October 17, 2018
The Valley Heights Mustang Volleyball Team compete in their first weekend of postseason play at the Twin Valley Tournament, this past Saturday. Entering the tournament, held in Washington County, as the 3rd seed, they began play at 11 am in the Gold Division. Game one, the Mustangs faced off against Hanover, defeating the Wildcats in two sets. After sitting out the next match, the girls competed in two back to back games. The Mustangs easily took down the Blue Valley Rams in the first match. Unfortunately, they later fell to the Frankfort Wildcats in two close sets of the second match. Despite this loss, the Lady Mustangs were sitting second in their tournament pool and moved on to the semifinals.
In the semifinal game, the varsity girls faced the Centralia Panthers. They struggled in the first set to find a rhythm, however, the second set they played with fire. Despite a hard fought battle in the second set, the Mustangs fell to the Panthers and headed to their final game of the tournament, playing for 3rd place against Clifton-Clyde. Maintaining the focus from the previous set, the girls defeated the Eagles in two, claiming third place in the Twin Valley League Tournament. Head Coach, Susan Steinfort, said, "Placing 3rd in the TVL Tournament is an exciting accomplishment for this young team and I'm looking forward to seeing what the rest of the season will bring for us."
The Lady Mustangs will spend this next week gearing up for the substate tournament, hosted here at Valley Heights on October 20th. Winning substate would secure the girls a place in the state tournament held in Hays on October 26-27th. Article by Sam Vermetten