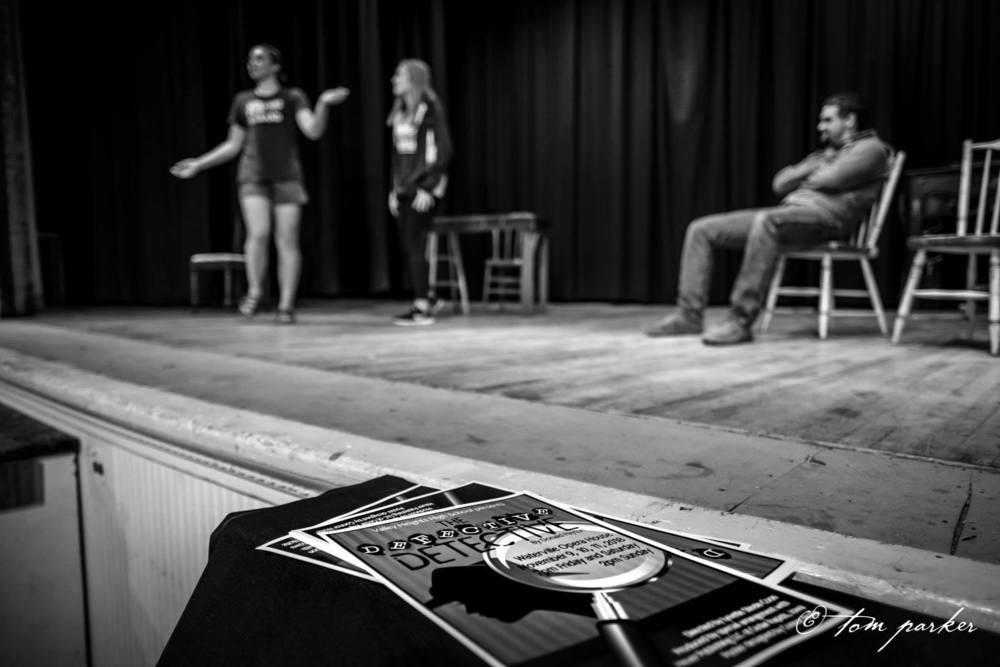 Cast and Clues.
Valley Heights Journalism
Monday, October 22, 2018
Every year Valley Heights produce a fall play. There have been musicals, comedies, and even murder mysteries. This year they will be putting on the "Defective Detective", a play about a perfect crime that occurred almost 50 years ago at the Purple Grackle Inn.
Actors in the play include Sam Vermetten-Winnie, Hannah Musil-Jolene, Haylee Whitson-Thelma, Emma Toerber-Velma, Rosa Blaske-Angela, Catherine Toerber-Hugsy, Jeremy Reed-Mugsy, Jackson O'Toole-Bugsy, Brady Trimble-Bogey, Maddie Walsh-Libby Sawyer, Sam Hardin-Nurse Crocket, Konner Treff-Klew, Cameron Beardsley-Chip, Kennedy Stevenson-Ellie, Tyler Wagner-Chester, Cole Coggins-W.W. Komm, Abigail Steinfort-Dot Komm, Aiden Nemechek-God, Kate Wanamaker-Imogene, Emma Yungeberg-Pearly Gates, Kyra Breasseale-Celia, Macy Wilcox-Delia, Sophie Brungardt-Sable, Maddy Vermetten-TV camera woman, Jeremy Neff-The Grackle, Cora Jones-TV Crew Makeup
On the Tech crew is Kaylynn Moctezuma with Makeup; on shifting crew is Jake Yungeberg, Mason Shoptese, Connor Nolte, Cesar Aguirre, and Tristan Moore; on Lights and sound is Carter Popejoy; in charge of Props is Mackenzie Joseph, and the two Stage Managers are Rylie Borgerding, and Shae Murk. Other tech includes Dakota Gillig, Wesley Denton and Trayton Clacycamp. " The play takes a lot of hard work and dedication, everyone in the play has a part no matter if your an actor or part of stage crew, you put in what you can to make the play great." said Shae Murk Jr.
Also, the play could not be what it is without our director Mrs. Lynette Steele-Coon, Assistant Director, Kim Oatney, our costume designer Mrs. Rhonda Joseph and, in charge of set construction set designers Mr. Drew Obermeyer and Mrs. Kaci Smith.
The Defective Detective will be performed on November 9th and 10th at 7 P.M. and at 2 P.M. on the 11th at the Waterville Opera House.
Article By: Konner Treff