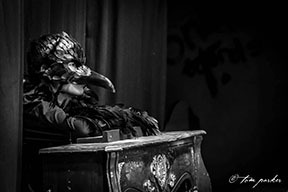 PLASTER DUST AND PRODUCTION
Rosa Blaske
Monday, November 05, 2018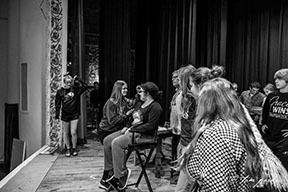 Valley Heights Drama Club is in its final production week for the All School Play, "The Defective Detective," a mystery spoof. This plot twisting play focuses around the main character's plight to turn her book of deeds around and solve an age-old mystery at the Purple Grackle Inn. With many odd and unique characters sprinkled throughout, you never know what or who will turn up in the next scene. The students in the play have been working on this production since the middle of August and have put in countless hours preparing for the live audiences that will come see it this weekend.
One of the highlights of the performances will be the audiences' chance to see some of the new renovations that were started this summer at the Waterville Opera House. Besides some interior beautification projects, there are many new and improved structural details, the number one being the addition of handicap access in the front and side of the 100+ building, and inside, a wheelchair accommodating elevator which makes it so that anyone can now come to the play and enjoy productions here at the Opera House. Other improvements include the addition of four spacious new bathrooms on the second floor and nice wide stairs leading to the basement.
"The downside to all these renovations is being the first play produced in here after the construction. We have a lot more cleaning to do, such as continually mopping up the sifting plaster dust from the seats and floor," said Hannah Musil, senior and 4 year veteran of the All School Play. Newcomer and freshman, Abigail Steinfort said, "We have also had some chilly fall days without heat and working around the switchover of electricity, but it is so worth it to see our Opera House go through these necessary updates so that more people will now be able to attend shows here."
Dates of the play are Friday and Saturday night, November 9th and 10th at 7pm, and a matinee on Sunday November 11th at 2pm. Admission is free-will donation.
Article by Rosa Blaske