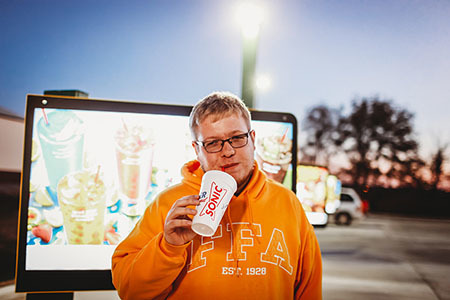 KEEP MOVING FORWARD
Kennedy Stevenson
Friday, January 04, 2019
KEEP MOVING FORWARD. "Around here, we don't look backwards for very long, we keep moving forward, opening new doors and doing new things because we're curious. Curiosity leads us down new paths." This is a quote that inspires Senior Konner Treff, son of Travis and Melissa Treff, to stay adventurous and open to new experiences. Konner says his mother especially played a role in this, as she taught him to never give up and to be the best person he can be. Konner has participated in many organizations throughout high school, including KAY, FFA, FCCLA, NHS, StuCo, Scholar's Bowl, Journalism, All School Play, and Forensics. His most memorable moments were the daily laughs he shared with Mrs. Coon and peers during Forensics class.
Konner's post-graduation plans include attending Kansas State University to major in Communication Sciences and Disorders in pursuit of becoming a Speech Therapist. He intends to run his own practice one day. Konner's constant grin and ability to put a smile on anyone's face will be one of the driving forces that pushes him to success in his endeavors.


Leaving Valley Heights, Konner hopes to leave a legacy of happiness and humor, as he is always cracking jokes and contributing to a joyful atmosphere.