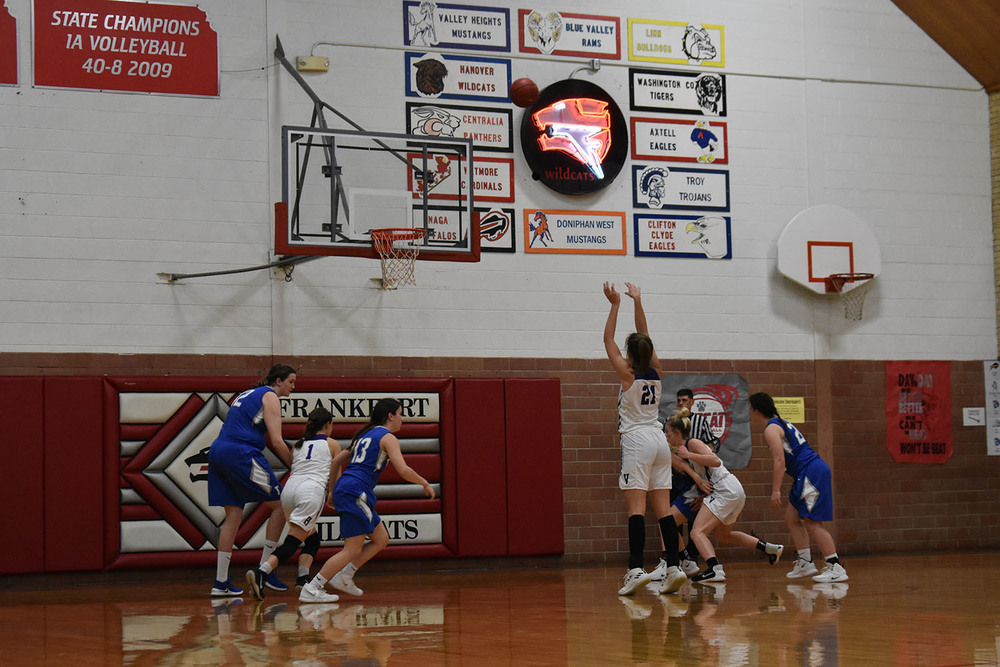 TWIN VALLEY LEAGUE TRIUMPHS
Samantha Vermetten
Friday, January 25, 2019
The Valley Heights girls and boys basketball teams both claim 5th place in the Twin Valley League Tournament. Due to weather, a tournament that would usually stretch an entire week was smashed into a four day period. Both teams were forced to play a game each night, Monday-Thursday.
The Lady Mustangs started the tournament with a six seed and easily defeated the Lady Trojans of Troy on Monday evening. The following afternoon, the varsity girls faced off against the Centralia Panthers. Unfortunately, they lost a grueling battle in the last few seconds, the final score 36-35. Despite the tough loss, the girls bounced back immediately on Wednesday afternoon, securing a victory over the D-West Mustangs. And to conclude the tournament, the Lady Mustangs beat the Axtell Eagles, final score 45-27, claiming a 5th place finish on Thursday afternoon. When asked about the tournament, freshman Maddy Vermetten said, "It was really exhausting playing a game every night, four nights in a row. Playing in the tournament was a lot of fun though, and it was nice not having to go to practice."
The varsity boys also had a highly successful tournament performance, going 3-1 over the four day stretch. Monday they easily took down the Wetmore Cardinals 60-38. Unfortunately, Tuesday evening they fell to the Hanover Wildcats. Wednesday afternoon, the Mustangs stepped on to the hardwood once again and faced off against Washington. The last time the Mustangs contended with the Tigers, it was close up until the final seconds of the game. The varsity boys showed up, ready to compete, and they sealed a victory over the Tigers on the third day of the tournament. Last Thursday, the Mustang Boys wrapped up TVL with a close back and forth win over Axtell. This secured a 5th place spot for them in the league.
The Mustang basketball teams will face some tough competition over the next couple of weeks, leading in to post-season play. After the postponement of the Solomon game on Tuesday, January 22nd, the next time the Mustangs step on the hardwood will be against the Wetmore Cardinals on Friday, January 25th. Next week, they'll have three games, Monday in Troy, Hanover at home on Tuesday, and Friday in Axtell.