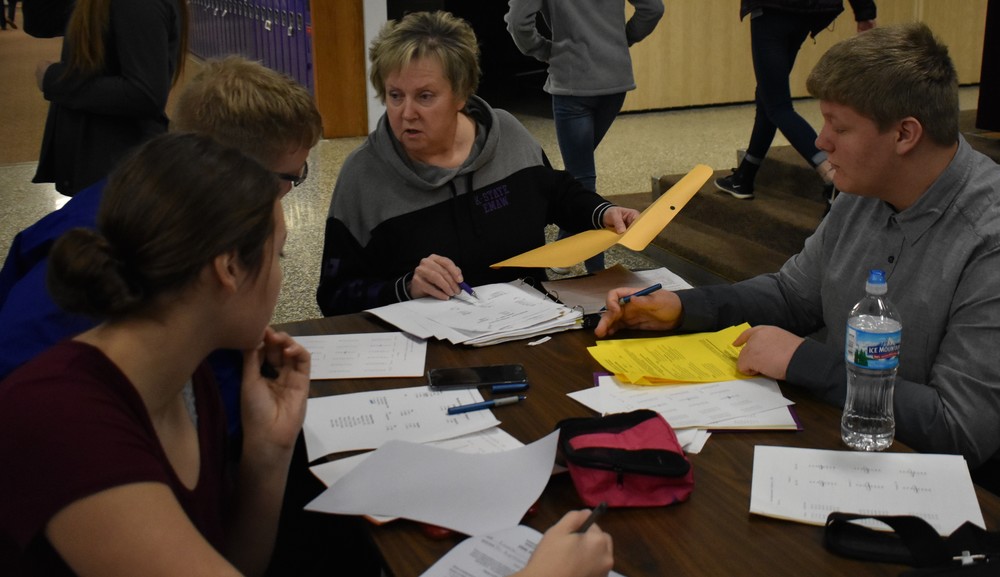 Nemaha Central All The Way
Valley Heights Journalism
Monday, February 11, 2019
The Valley Heights Forensics team travels to Nemaha Central for the second meet of the year. Overall the team placed 3rd in sweep stakes, individual scores of each team member's totaled together. "Even though we had a lot of novices this week, I'm proud of how well we did, individually and as a team," said Forensics Coach, Mrs. Coon.
Out of the fourteen students that went, twelve broke to finals. With exception of Solo Acting Serious, Impromptu, and Informative, in which Valley Heights had no students competing, the forensics team broke in every event.
The medaling ceremony presented outstanding results. In Solo Acting Humorous, Abigail Steinfort placed 2nd and Sam Hardin placed 6th. For Improvised Duet Acting, Rosa Blaske and Hannah Musil placed 3rd and Jackson O'Toole and Evan Haines placed 5th. Hannah Musil received 1st in Prose. Also receiving 1st was the Duet Acting group of Abigail Steinfort and Meila Crowder. In poetry, Robin Roberson received 6th place. At their first meet of the season, Carter Popejoy placed 2nd and Aiden Nemecheck placed 6th in Extemporaneous Speaking. Finally, in Original Oration, Rosa Blaske placed 1st, Sam Hardin placed 2nd, and Robin Roberson placed 5th.
"This meet felt good, and Meila and I have been working and adding details to our duet since Republic County," said Freshman, Abigail Steinfort.
Article by Sam Hardin