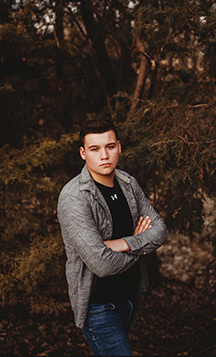 'CHASING' THE DREAM.
Valley Heights Journalism
Friday, March 01, 2019
"What do you think? If a man owns a hundred sheep, and one of them wanders away, will he not leave the ninety-nine on the hills and go to look for the one that wandered off?" Matthew 18:12 inspires Hunter to continuously help those who are in need. Hunter is the son of Robert and Trinda Chase. Throughout high school, Hunter has been involved in numerous activities including: Football, Golf, FFA, Peer Tutor, and FCA. When not participating in school functions Hunter enjoys working with D&S Cattle, hunting, fishing, and spending time making memories with his family and friends. The variety of activities and hobbies Hunter has been involved in has helped shape his post graduation plans. Following high school he plans on attending Southeast Community College before transferring to Kansas State University to study Park Protection.
As he starts a new chapter in his life, Hunter thanks his father for teaching him to have a strong work ethic, show generosity to others, and most importantly, grow in his faith. When looking back on his high school years, Hunter will always be reminded of the countless trips made to sporting events with his closest friends. He hopes to leave Valley Heights with the memory of always being able to make someone laugh, even if it embarrassed him.