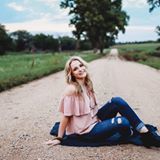 HAVE COURAGE & BE KIND
Valley Heights Journalism
Thursday, March 28, 2019
HAVE COURAGE AND BE KIND. As Gillian Zidek's time at Valley Heights High School is dwindling, she wants people to remember her as being compassionate, someone who would lend a helping hand when others were suffering. She is the daughter of James and Jeannie Zidek. Gillian says that the person that has impacted her the most is her mother because she taught her how to be a strong and independent woman. Additionally, she pushed Gillian to be the person she is today.
In high school, Gillian participated in basketball, FCCLA, FFA, KAY Club, the All-School Play, Forensics, Peer Mentor, Art Club, and FCA. The high school memory that she will never forget was dressing up for ugly sweater day with Madisen Hanson and Konner Treff. While participating in various activities, she also works at Colts Round Up. This allowed her to work with children and establish her skills with helping others.
After Gillian walks the stage, she plans to attend Southeast Community College in Beatrice, Nebraska to become a substance-abuse counselor or a prison counselor. Until then, Gillian will continue to live by her favorite quote, displaying courage and kindness to the students and staff here at Valley Heights.