EDIT MAIN

Schools That Care assists students, families and community members of USD#380 and USD#498 based on needs, not income. The Family Advocate drives a Mobile Family Resource Center, aka "the care bus," to our communities- Waterville, Blue Rapids, Frankfort, Vermillion, Centralia and Corning- filled with supplies and resources to share with families to improve their lives and increase students' opportunities to thrive at school and in the classroom. The care bus relies solely on donations to provide supplies to families like school supplies, hygiene supplies, household supplies, some baby supplies, winter wear and other basic needs.
THANK YOU FOR YOUR SUPPORT!
click on Donate below to give to SCHOOLS THAT CARE via PayPal
Thank you for supporting Schools That Care!
---
Other ways to donate to Schools That Care
Mail a Check

PLEASE MAKE CHECKS PAYABLE TO OUR FIDUCIARY AGENT, USD#498 AND DESIGNATE SCHOOLS THAT CARE AS THE RECIPIENT.

Schools That Care
c/o Valley Heights
2274 6th Rd.
Blue Rapids, KS 66411

Donate Supplies
As needs and inventory change, Schools That Care will run donation drive campaigns for specific items like schools supplies, hygiene supplies, socks and undies, soaps and suds, etc....Follow us on FaceBook @schoolsthatcare to see current campaigns, other needs and news like where the care bus will be next!
Drop off donated supplies at these community locations:

in USD#380
Centralia School office
First Heritage Bank of Centralia
First Heritage Bank of Corning
Vermillion Parents As Teachers office
First Heritage Bank of Vermillion
Frankfort School office
First National Bank of Frankfort
Schools-Business Educational Consortium office in Frankfort
in USD#498
Waterville Grade School lobby
Citizens State Bank-Waterville
Blue Rapids Elementary lobby
First Commerce Bank-Blue Rapids
Dollar General in Blue Rapids
Valley Heights Jr/Sr High commons
or schedule a pick up with the Family Advocate by calling 785-363-2508.

Thank you for your in-kind support!
---
Current Donation Drive Campaign Information: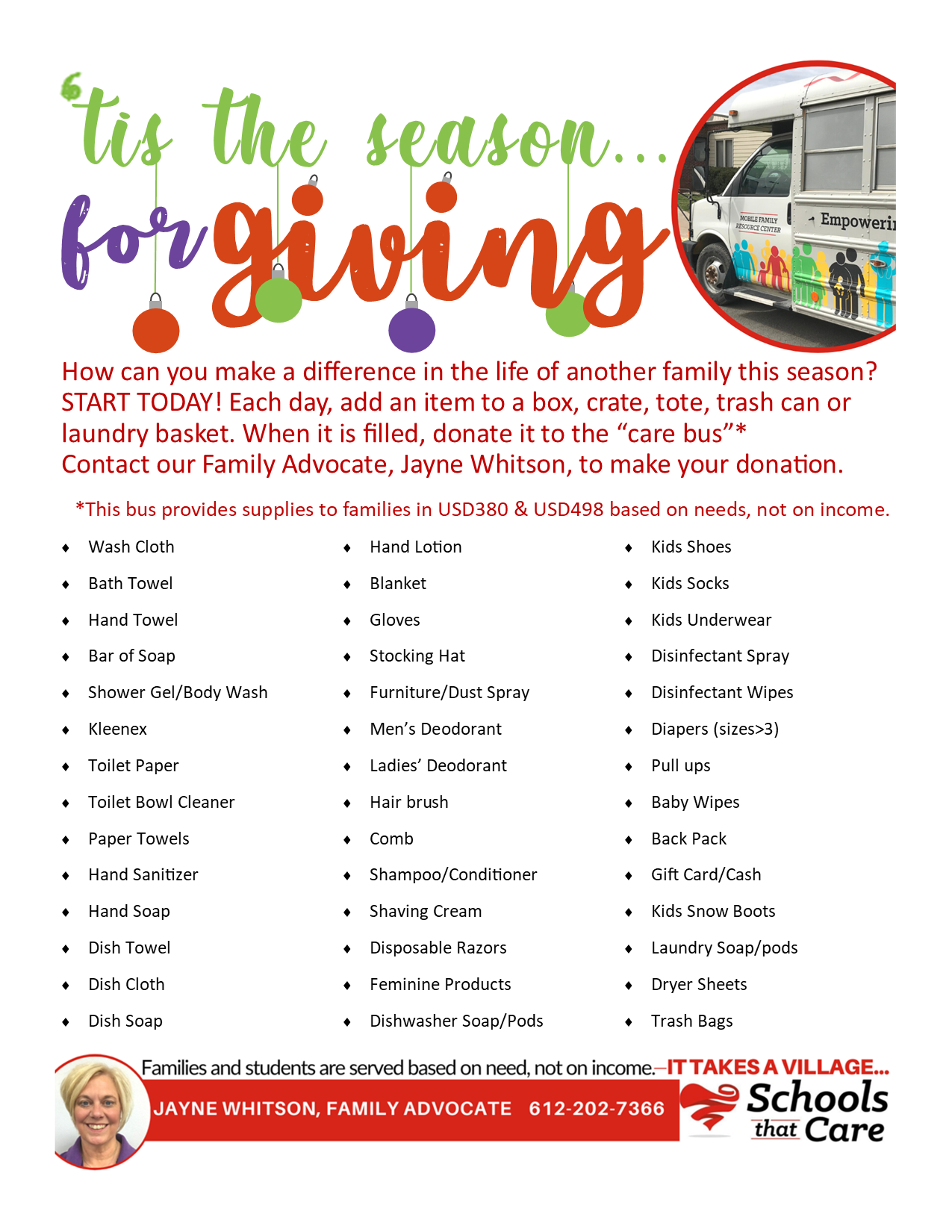 ---