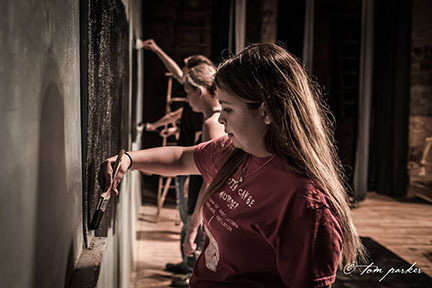 BEHIND THE SCENES: READY, SET, GO! Many different components make up an excellent musical: acting, costumes, singing, choreography, and the set. "Set" is defined as scenery and properties designed and arranged for a particular scene in a play or musical. The set describes the mood and time period of the play. The Valley Heights All School Play this year is Rodger and Hammerstein's, Oklahoma!
In charge of the scenery and set this year are Skyler Saunders, Brady Trimble, Dalton Joseph, and the Agriculture and Project Management classes, led by Drew Obermeyer and Kaci Smith. "We, as a class, are really excited to be painting a big canvas with a country landscape. It'll look really special when it's all finished." says Jr. /Sr. High School Art Teacher, Kaci Smith.
All actors and tech participants are required to contribute at least 3 to 5 hours on their own time towards the set and other miscellaneous projects. "The hardest task that we are faced with right now is building the house. Not only do we have to build the frame, but put in trusses and windows. It'll look nice in the end and we are all excited to see the finished product," says Brady Trimble, junior.