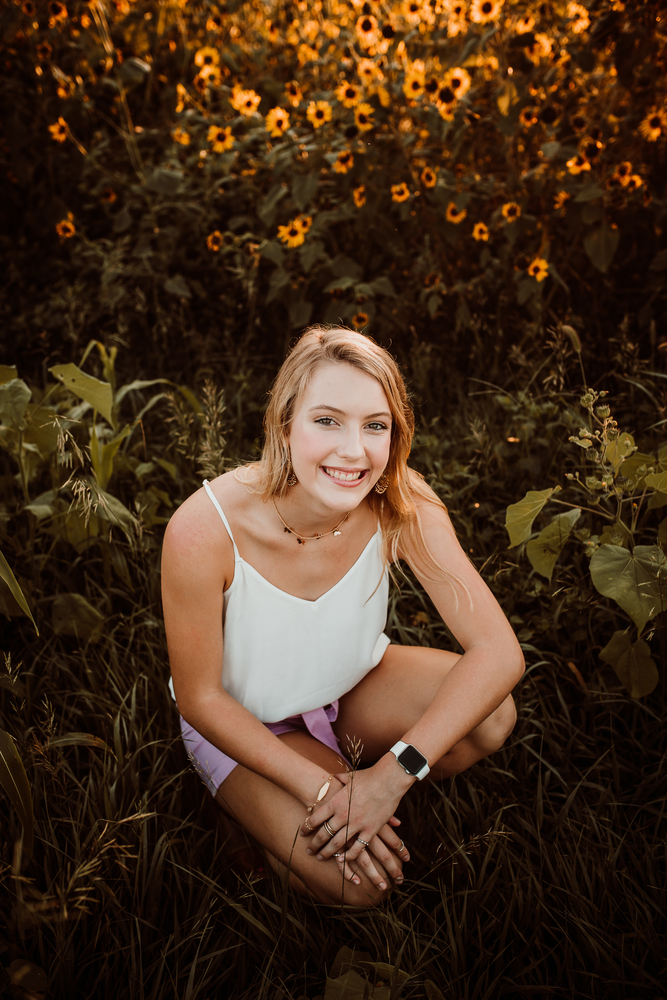 LIFE FULL OF HAPPINESS
Valley Heights Journalism
Monday, September 27, 2021
LIFE FULL OF HAPPINESS. "You can't go back and change the beginning, but you can start where you are and change the ending." This quote reminds senior Madison Vermetten, that everyone falls down every once in a while, but the way you come back says more.
Madison Elizabeth Vermetten, better known as Maddy, was born on March 10, 2004 to Mike and Stacy Vermetten. Maddy has two older sisters, Shelby and Sam, and one younger sister, Mia. Maddy has grown up in Waterville her whole life and has been a well known face in the Valley Heights community. Whether she is dominating on the court, or giving back to her community, you will always see Maddy wearing a big smile and carrying a bright and bubbly personality. Throughout high school, Maddy has been involved in a large array of activities. She has competed in volleyball, basketball, and track for four years and has been a very valuable component of each team she has been a part of. Maddy has also participated in numerous clubs and other outside activities including; Art Club, journalism, All School Play, KAY's, NHS, Student Council, FCCLA, cheer, and drill team. Maddy encourages underclassmen to get involved in things you enjoy. "Time goes very fast and you'll make lots of memories within the different organizations and activities you participate in," said Vermetten. One of Maddy's favorite high school memories came from the State Volleyball game against Pitt Colgan her sophomore year. Maddy said,"The game was so fun and full of energy. I had so much fun screaming my head off to get into the Pitt Colgan girls' head."
Maddy has impacted many people during her time as a Valley Heights Mustang. She's been an outstanding role model for students of all ages. "It's hard not to smile when you are around Maddy," said Mrs. Schreiner, "She carries herself with such confidence and energy that makes her positive attitude contagious." Mrs. Schreiner has gotten to know Maddy very well through cheerleading and having her in class this year. "My favorite memory with Maddy is definitely the cheer van rides to away games. Even after a long school day, she has so much energy and positivity that she radiates to others. There is never a dull moment with Maddy in the backseat," said Mrs. Schreiner. When Maddy leaves Valley Heights she hopes to be remembered as a girl who was always happy, hardworking, and willing to help anyone. Maddy greatly appreciates the Valley Heights community, and couldn't have asked for better support.
Even when Maddy was a young girl, she always told people that when she grows up, she wants to be a doctor. Now that Maddy is grown up, she still has that same dream. Maddy plans to attend a four year university to major in pre-med or biology and then go to med school. Maddy has always had a helping heart that wants to help anyone and everyone.
Although many people see Maddy around the community and know her well through athletics, there are some things about Maddy that most people don't know. Maddy loves Mexican food, especially a chicken chimichanga from El Ranchero. Maddy also loves listening to Iann Dior and her favorite song by him is "Gone Girl." One of Maddy's favorite teachers in high school was her science teacher, Mrs. Laughlin. Maddy has always had a knack for science and loved taking all of Mrs. Laughlin's classes. "One of my favorite memories with Maddy was when she and other Anatomy and Physiology students were being led around the school blindfolded and Maddy ran into a big piece of furniture in the library, she kept right on going. Nothing stops Maddy from finishing the challenge," says Mrs. Laughlin. As Maddy begins to prepare for her next step in life Mrs. Laughlin wants Maddy to remember, "To just have fun. I know you will always strive to be the best you can be, so surround yourself with like-minded people who always want the best for you. Remember to reach out to your professors, that relationship you build with them might lead to great opportunities in your career field."
Article by Cat Toerber