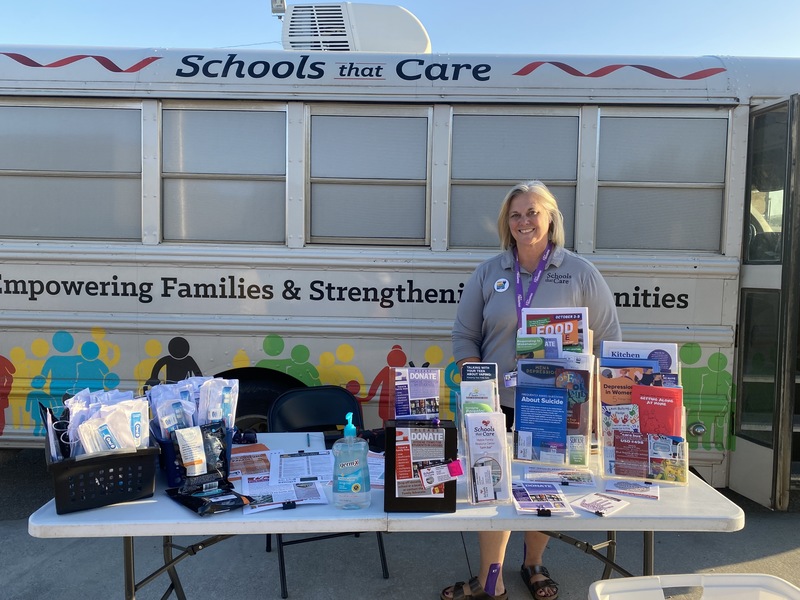 CARE PACKAGE ON WHEELS."Anyone can refer someone to me, if they know someone who needs help or if you are able to speak up for yourself and say I need some help with this, feel free to come and see me," Jayne Whitson, USD 380 and 498 Family Advocate, speaks on the services she provides for the schools and communities. Jayne serves the communities by providing household cleaning supplies, clothing, school supplies, personal hygiene products, infant care supplies, paper products, winter wear, blankets, and towels, Jayne also goes on to say,"there's a lot of resources available that are not just material items, including utility assistance, financial needs, health needs, and mental health needs." Supplies and resources are all donated so there is no charge for any of the services. However, if Jayne does not have some of the resources readily available she will work with other community organizations to find a way to provide the resource needed.
Jayne is also in the process of restocking the care bus and is looking for household cleaning supplies, laundry soap, personal care and hygiene products, winter clothing wear, kids shoes and socks, childrens underwear, and cash donations. "I want people to know that if they have a need that they can come and see me, whether that be a physical need, a health need, or a family need," Jayne stated.
Supplies can be found in the care closets at the schools, in the women's bathroom at the high school, and whenever the care bus is out and about. A hygiene program will also become available at the elementary school in the fifth and sixth grade rooms, as Jayne is partnering up with school counselor, Titus Staples, and school nurse, Jenna Vathuaer, to start a character hygiene program. Jayne is also going to be partnering up with Mrs. Pacha, FACS teacher to provide laundry services to those who are in need of a clothes washing service.
Article By: Maecyn Gunn