Valley Heights Community Education is excited to bring you Larsen Gymnastics. This class will be taught by Taegen Larsen. She teaches tumbling for ages Kinderprep to 6th grade. All experience levels are welcome from somersaults to back tucks.
https://forms.gle/1xs6vk953EY8Um3d6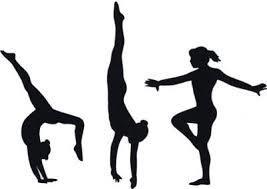 Student safety is important to parents, teachers, families and friends...Together we can help students feel safe, secure, and connected so they can prepare to learn at school! #communitycounts #studentsafety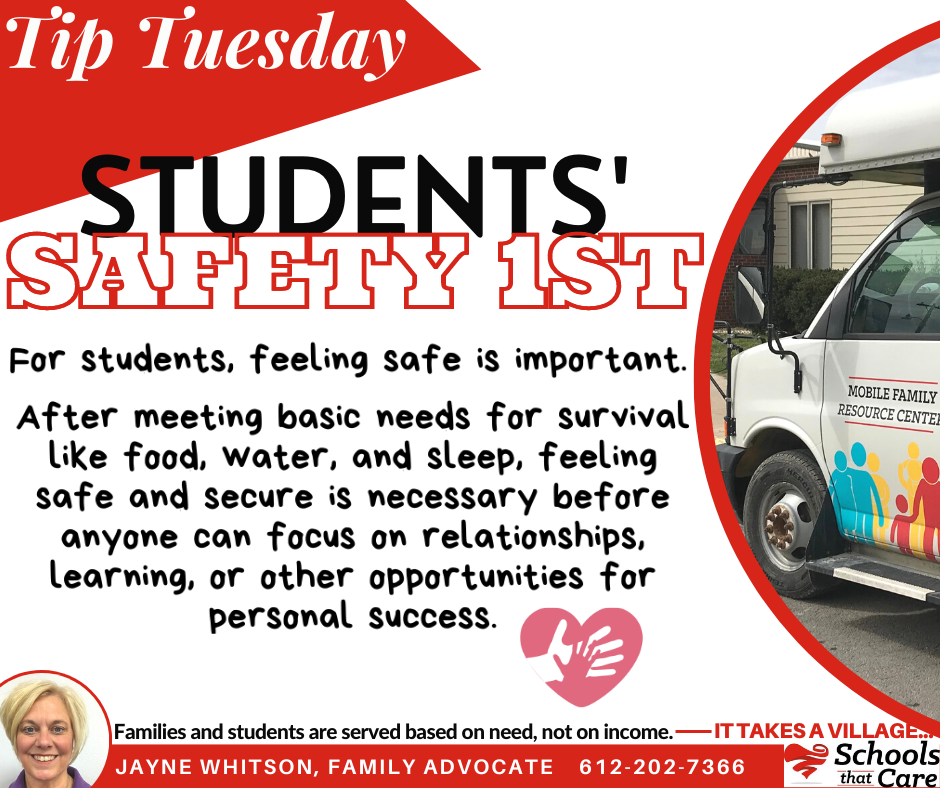 Reminder!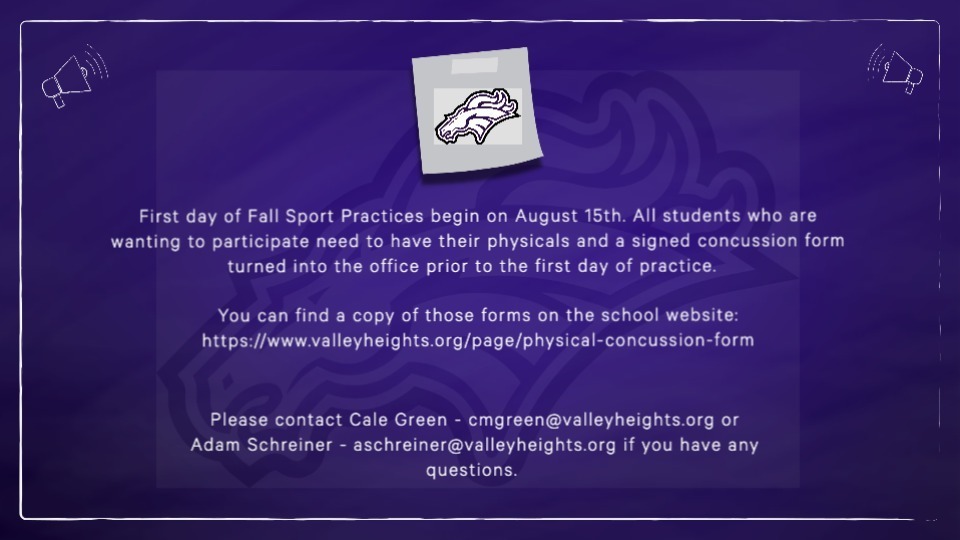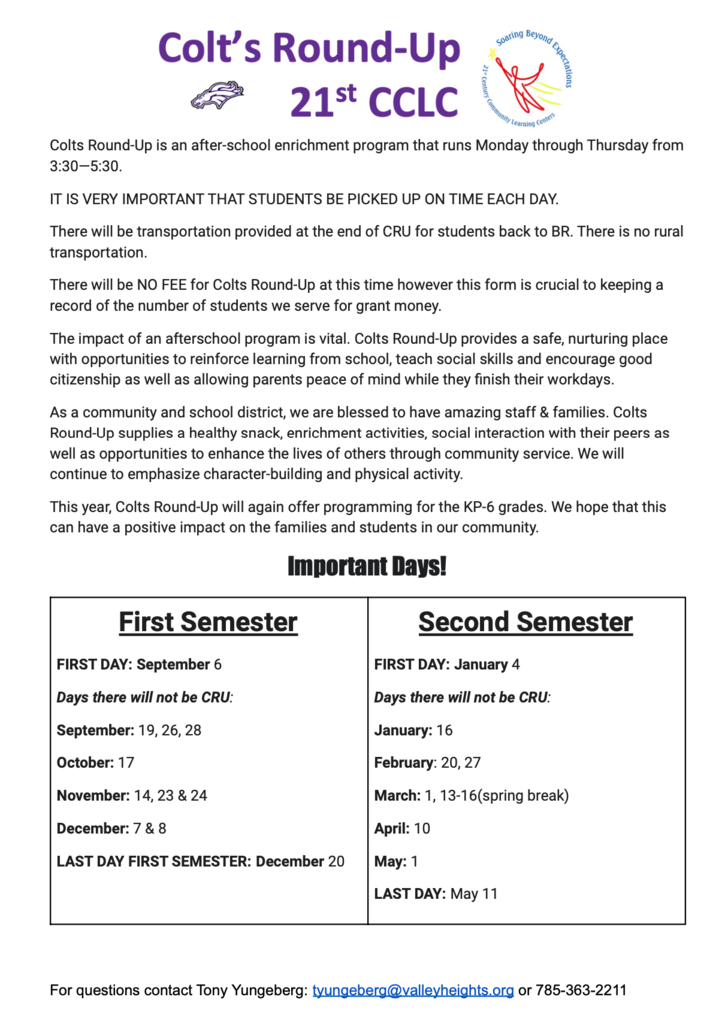 Conditioning Camp will begin tomorrow from 7:00 AM - 8:00 AM. This is open to all students in grades 7-12.  See you tomorrow morning on the practice fields!

Thanks to teachers, students, staff and alumni who have worked hard this summer to clean up, paint and garden to make our schools shine brighter!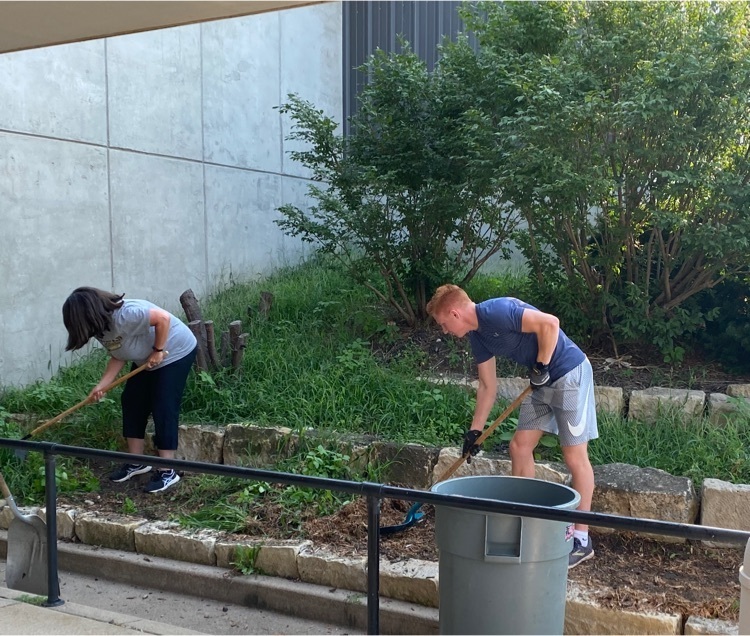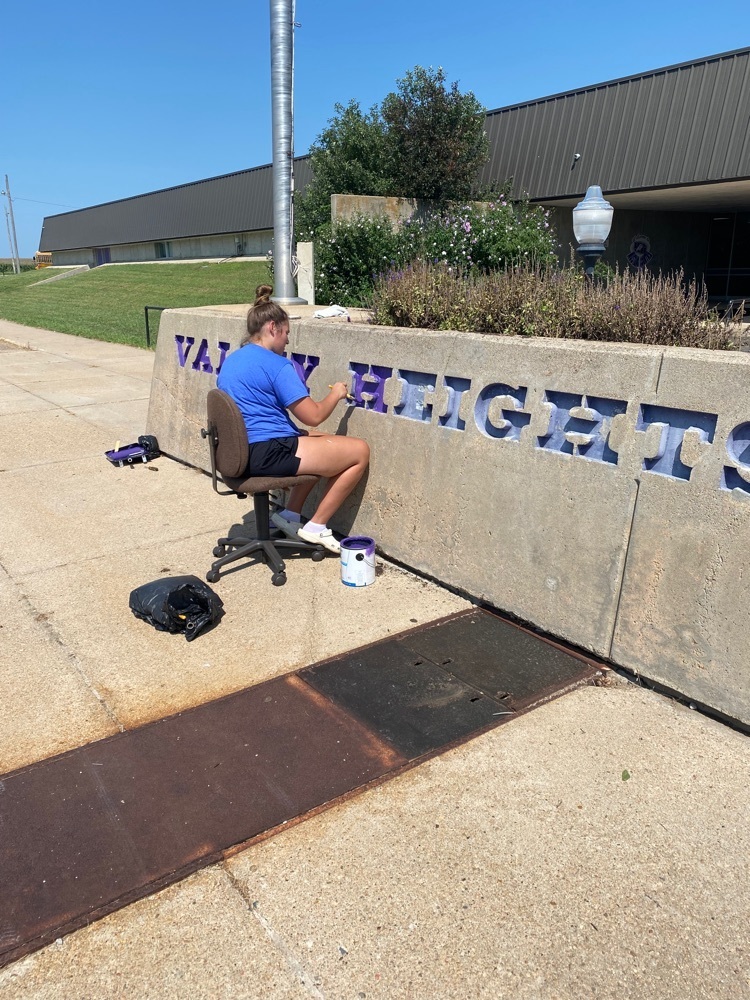 Do you enjoy being a part of a team, a family that sticks together and has fun together? Do you like to run long distances-2 miles for JH boys/girls and 3.1 miles for HS boys/girls. If so cross country may be for you! Contact Coach Staples if you would like to learn more!
tstaples@valleyheights.org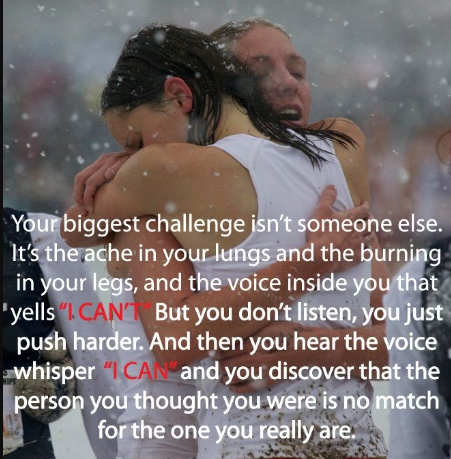 Reminder: Tuesday, August 9th is the final day you can register to vote in the August 30th Special Bond Election. Go to this link:
https://www.kdor.ks.gov/Apps/VoterReg
, or utilize this QR code to tap into Kansas Online Voter Registration, or visit the Marshall County Clerk's office!
Time to get ready to roll BACK TO SCHOOL! Enrollment dates and school supplies available. Skip the line...sign up here for supplies delivered to school.
https://forms.gle/G4bwWD7UB7umjjfh8
Contact the Family advocate for more info. #backtoschool22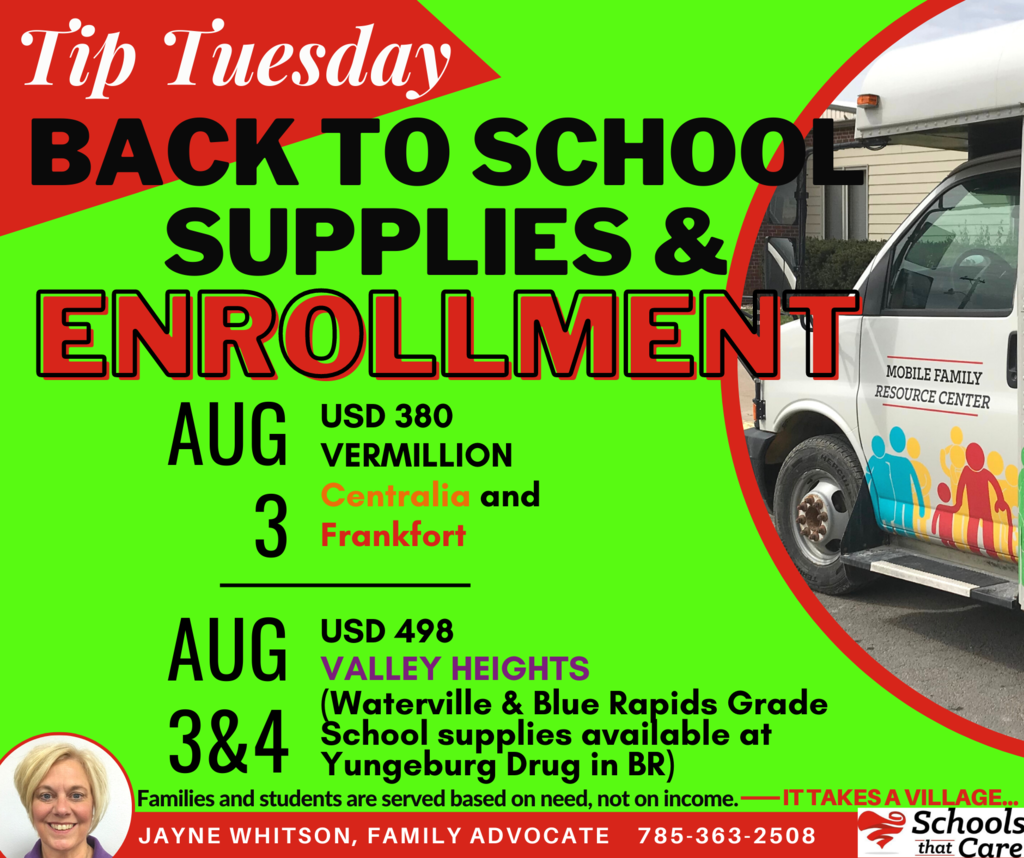 Immunization Clinic will be available at VHHS on Thursday from 3:30 - 6PM!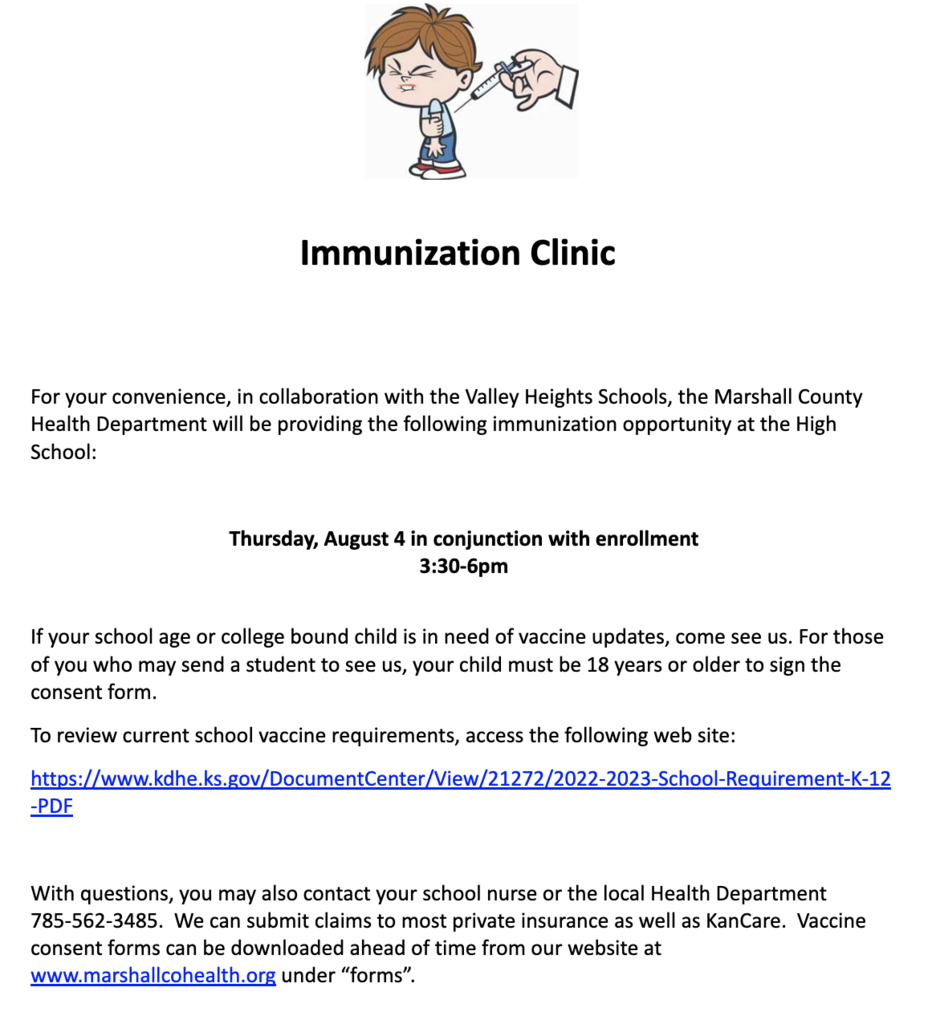 2022 Volleyball Schedule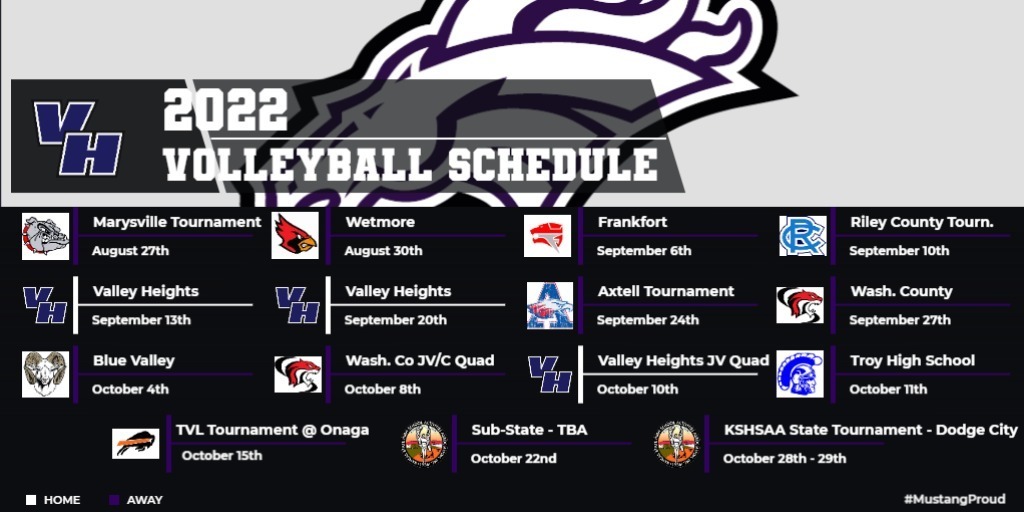 2022 Cross Country Schedule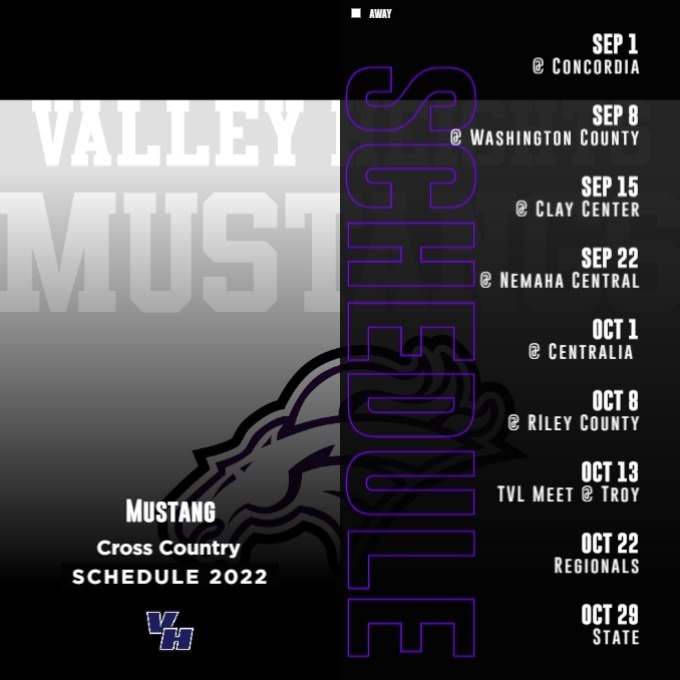 2022 Football Schedule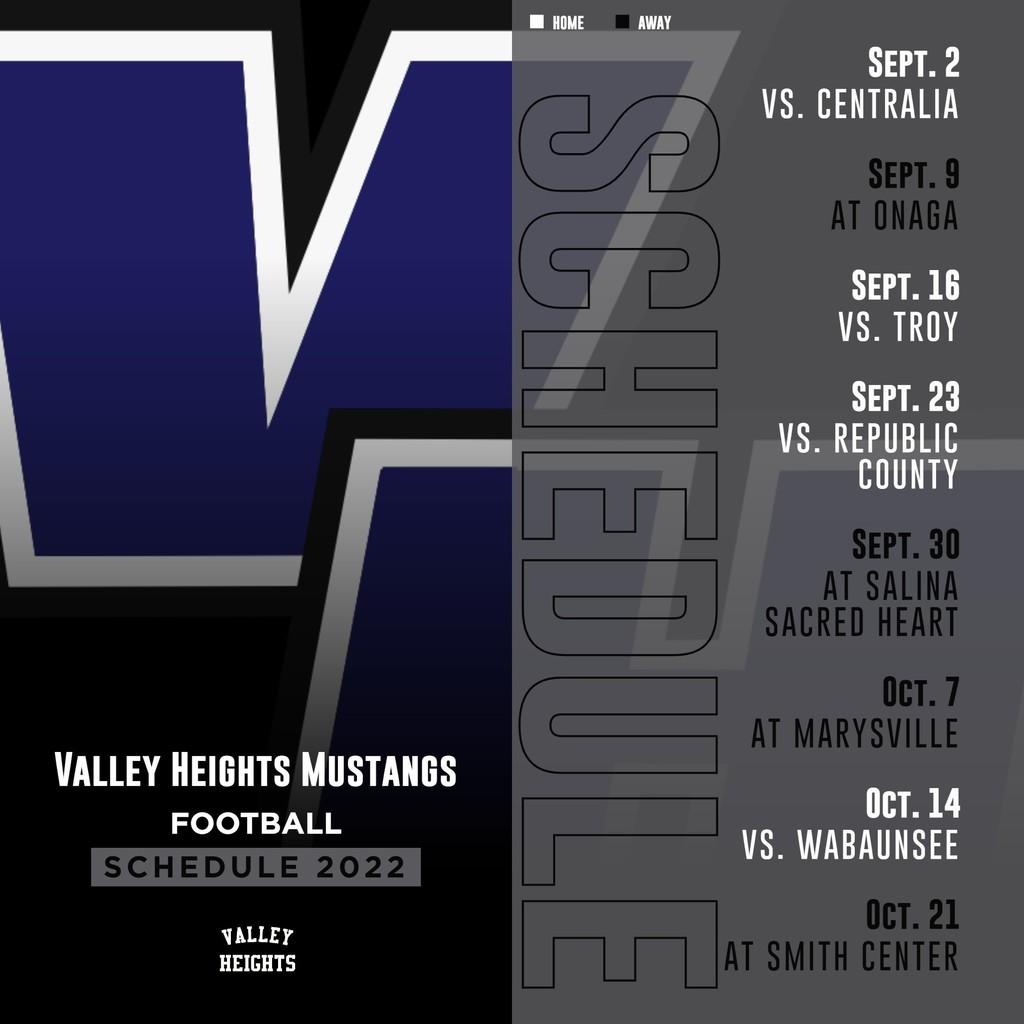 It is Enrollment Week at Valley Heights!!!! Enrollment location for all students, K-12, will be at the Jr/Sr high school building. Wednesday, August 3rd and Thursday, August 4th from 8am to 6pm. Please come out and take care of all your school needs for the year. Enrollment packets will be available for you and your student(s) these days. Schools That Care will be here for you school supply needs. Coaches, Transportation, Health Nurse, etc. will be available for you as well. Hope to see you all there.

Summer Weights will be Monday and Tuesday this week. There will only be two sessions for all 7-12: 6:00 AM - Boys 7:00 AM - Girls
The United Methodist Church Food Pantry will be open this Saturday 9am-10am in BR to serve hungry families in the Valley Heights Communities. #foodforyourfamily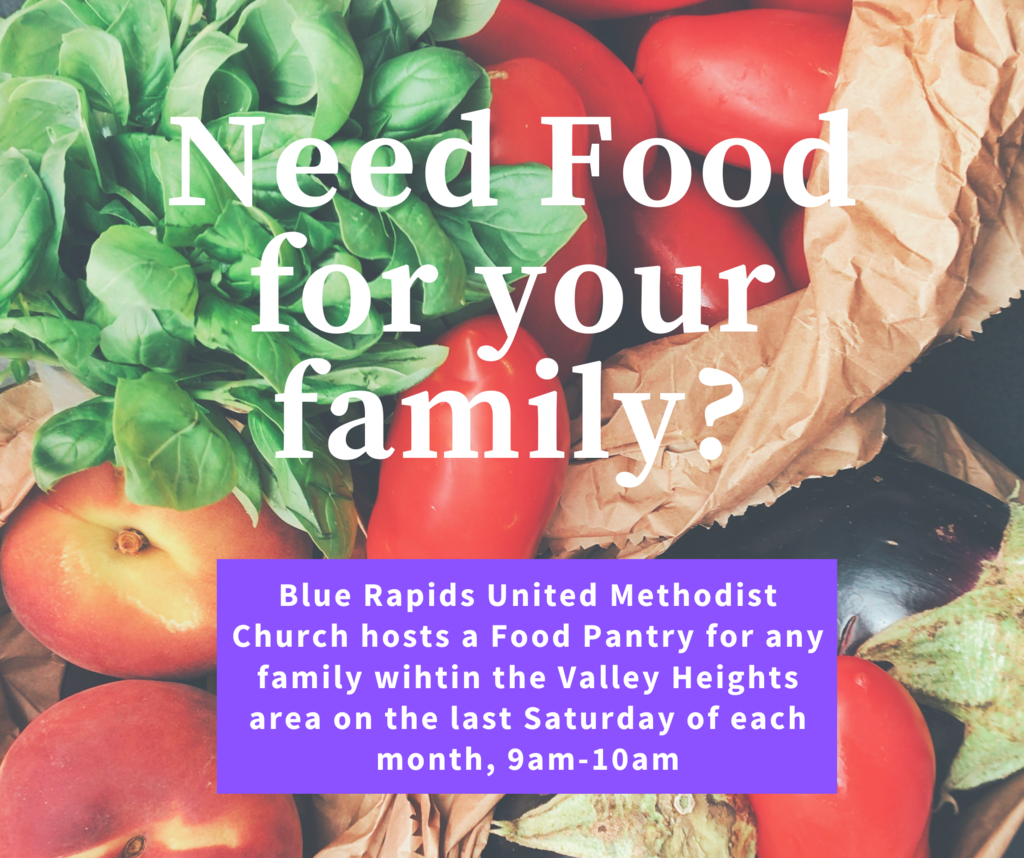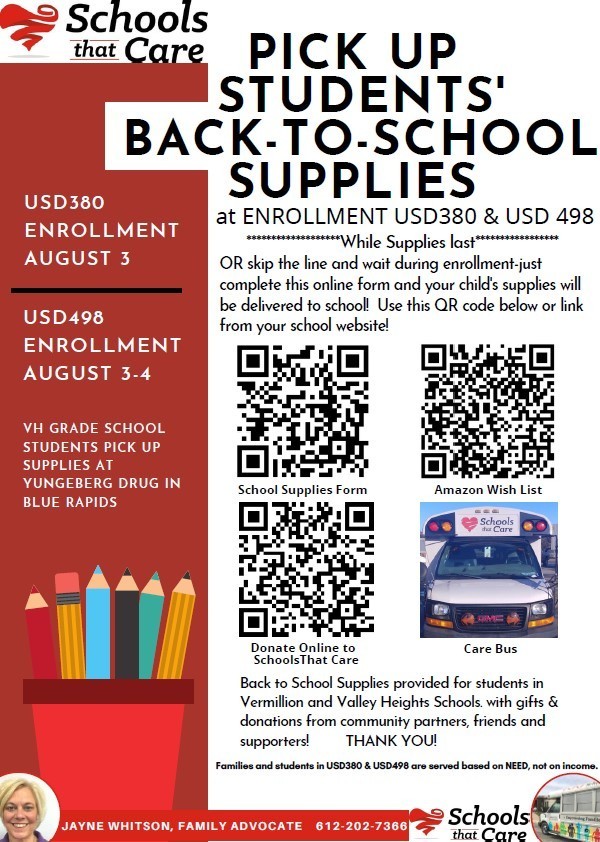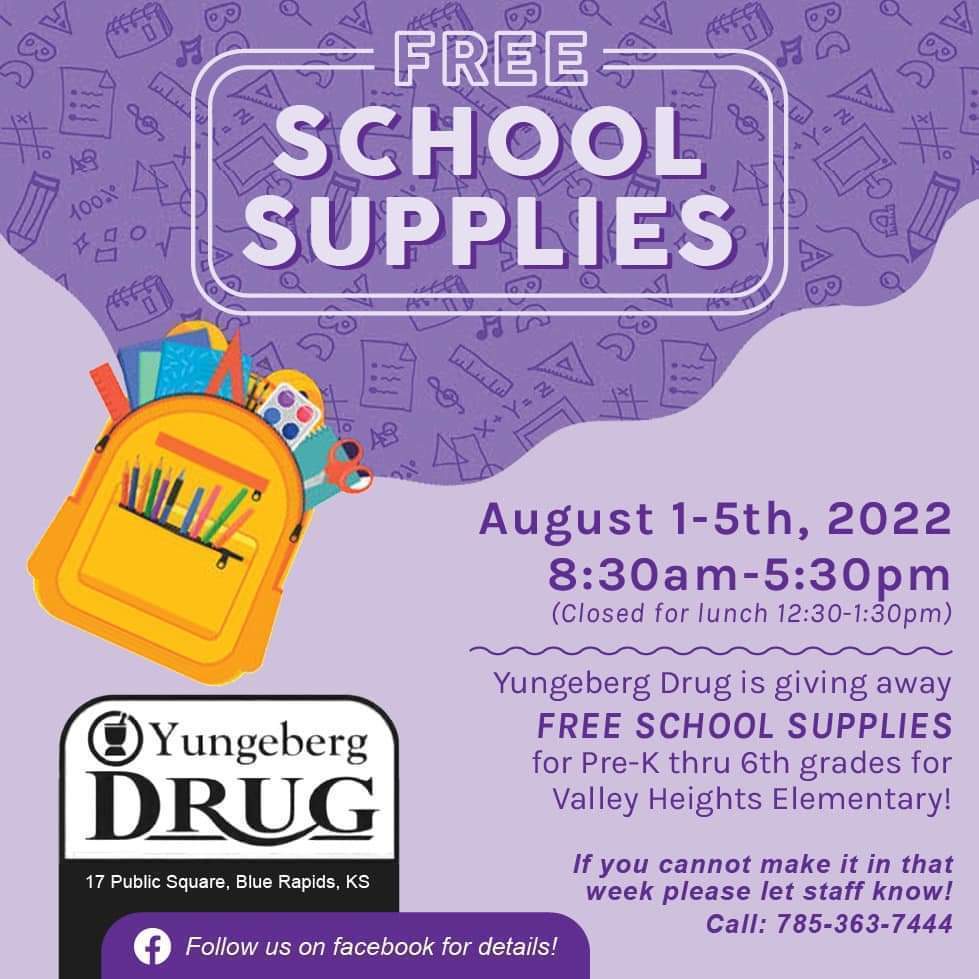 WIN / WIN Applying for Free/Reduced Lunches helps families and school programs!!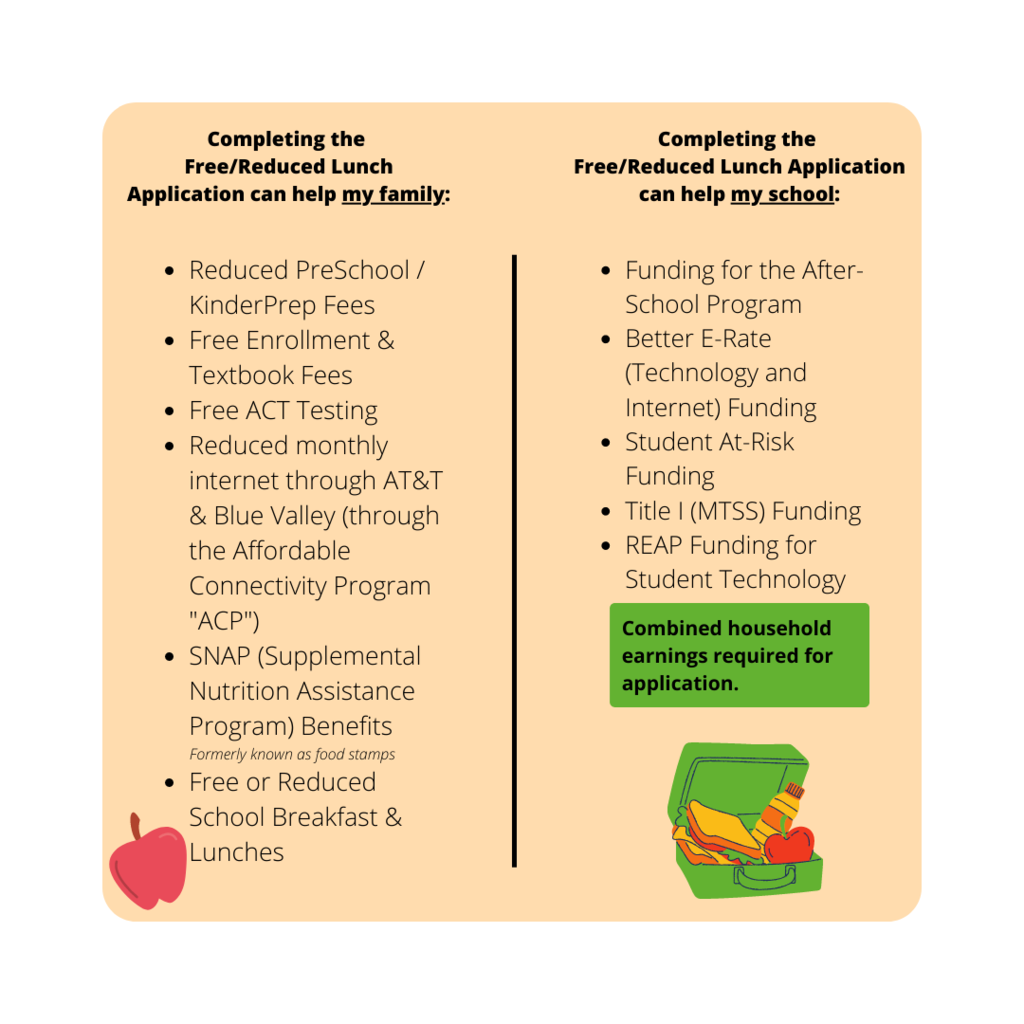 Enrollment begins next week for students in Centralia, Frankfort, Blue Rapids and Waterville- USD#380-Vermillion Schools and USD#498 Valley Heights Schools. #SchoolsThatCare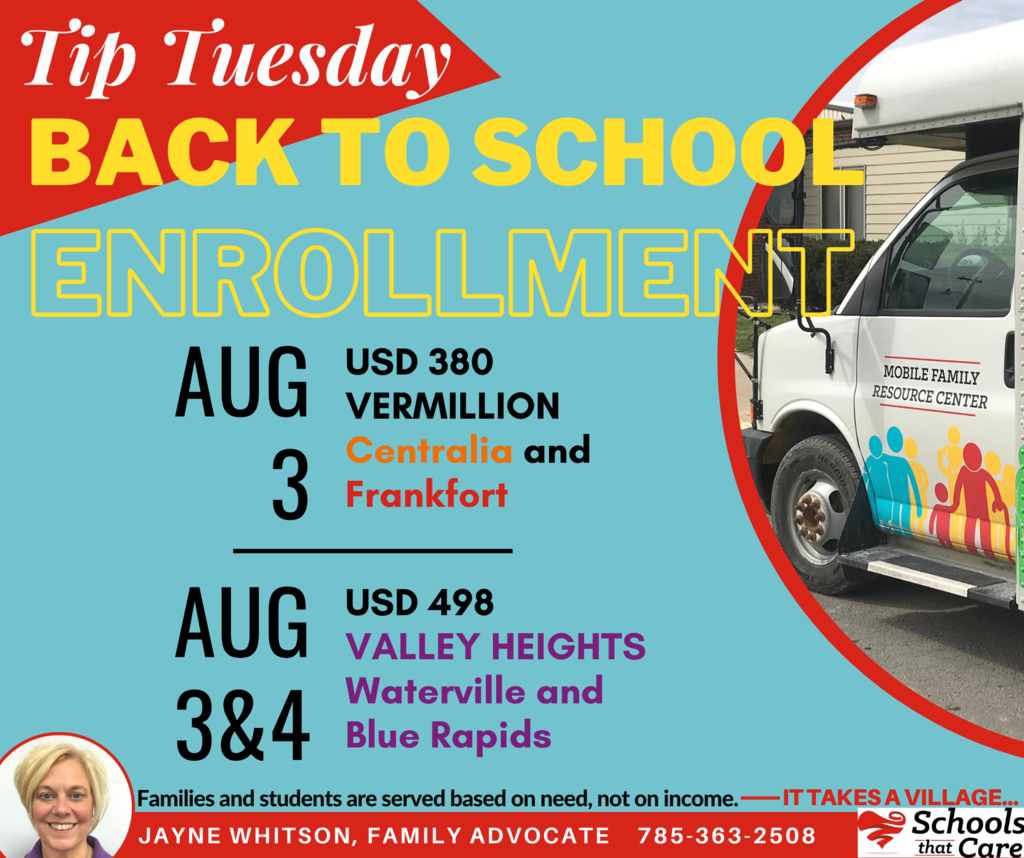 Get ready for Fall sports!