The 6th Grade Leadership's next project begins tomorrow!! We will be selling candy canes that will be delivered on Dec. 21st to all VH students and staff with proceeds going to the Crook Family.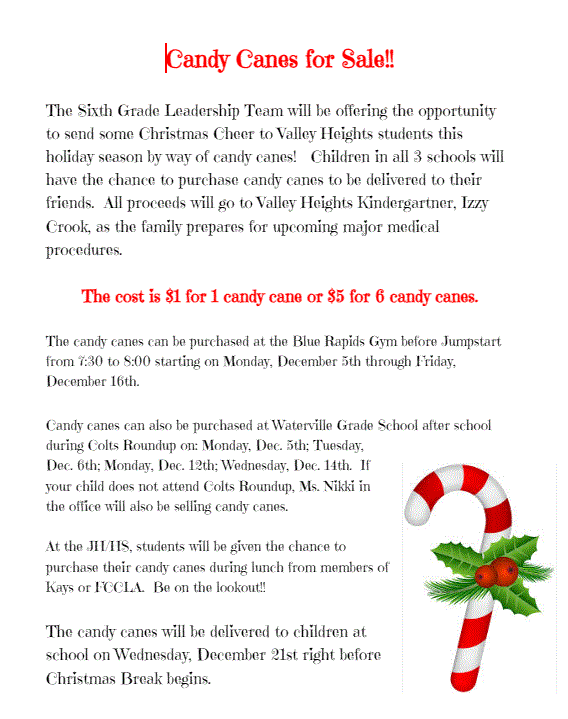 Have a great week!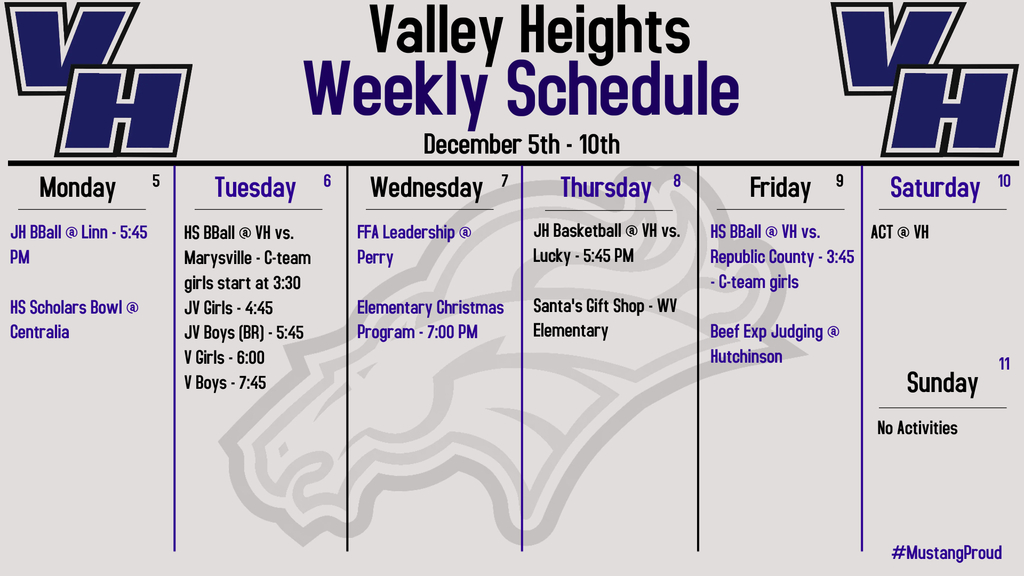 Tied after the first OT 34-34. Headed to the 2nd.
End of regulation: Lady Mustangs - 32 Riley County - 32 Headed to OT!
At the half: Lady Mustangs - 13 Riley county - 22
After one: Lady Mustangs - 6 Riley - 8
Christmas is right around the corner! Kids will be dressing in their "Sunday Best" to sing their hearts out for the VH grade school program while B/W attire is preferred for the band concert! #ShopColtsClosets and #MustangTradIN Shop early for best selections while supplies last.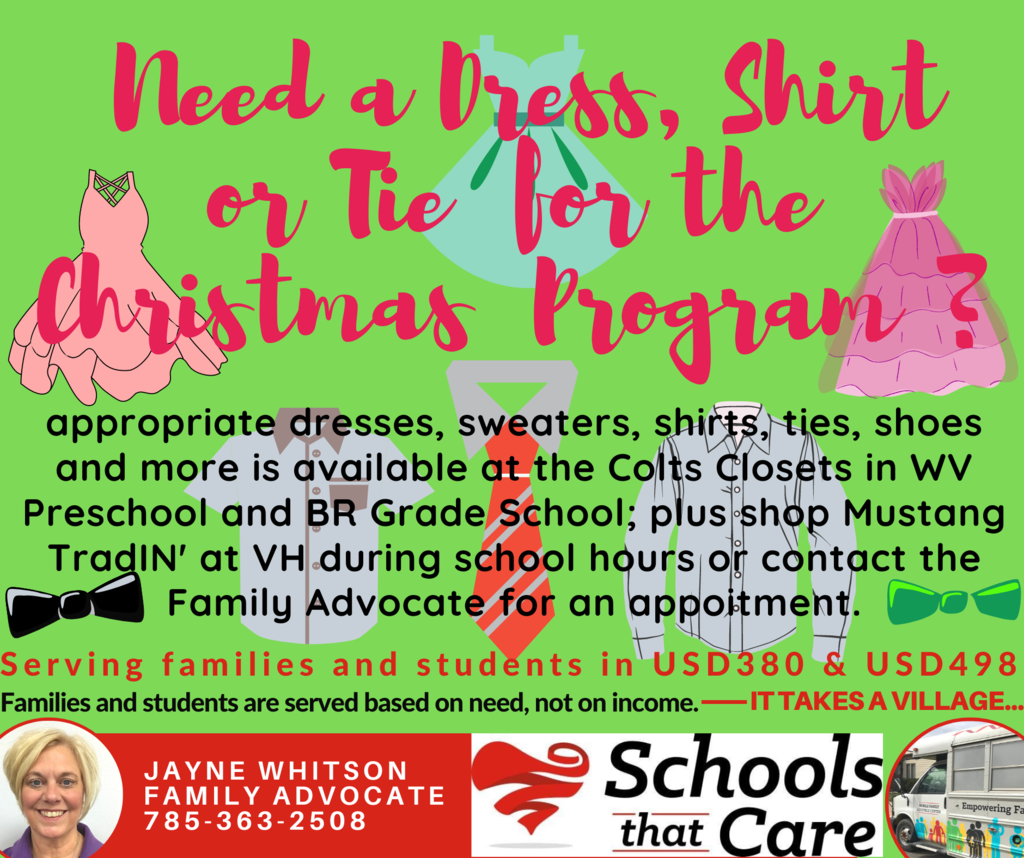 Schedule for Tonight's JH Games @ Hanover (12/1): High School Gym: 5:45 A Girls 7:00 A Boys 8:15 1/2 C Boys St. John's (across the street from the HS Gym) 5:45 B Boys 7:00 B Girls

Reminder to K-6 families that Santa's Gift Shop forms, labels and money is due Monday, December 5th. Please send it as soon as possible. We do have scholarships available if you are unable to pay at this time. If your student(s) are not participating please inform their teacher.

2022-23 Sub-State Basketball Assignment: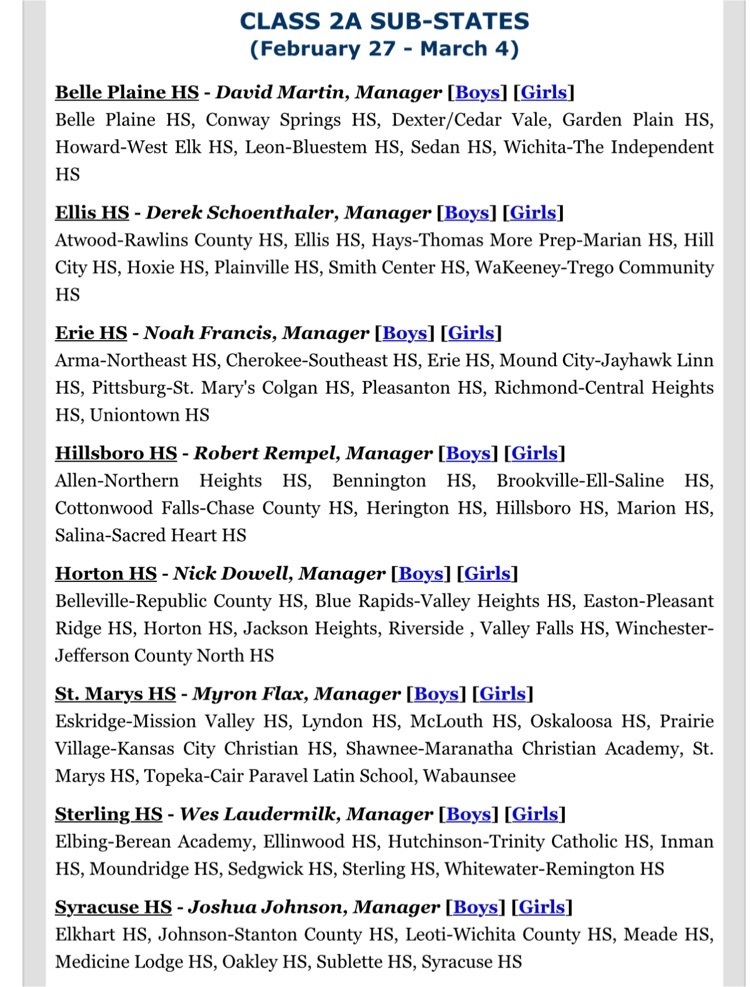 Good luck to both basketball teams as they start their season tonight!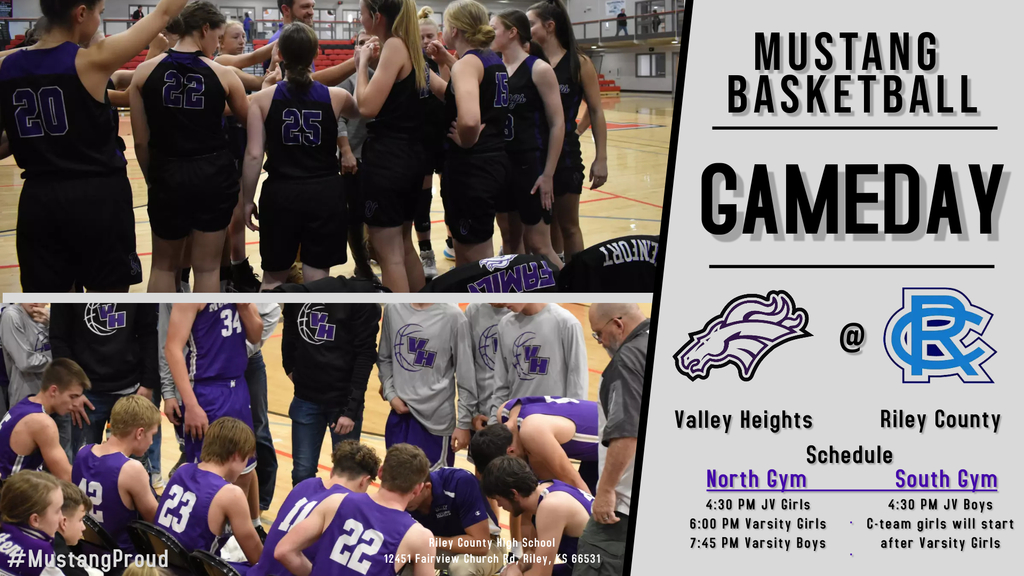 Big Brothers Big Sisters is investing in our community! How can you support local youth and invest in our community too? #GiveGratefully now thru Dec. 31 and each dollar will be matched or #shopandGiveBack!
https://www.kansasbigs.org/donate-now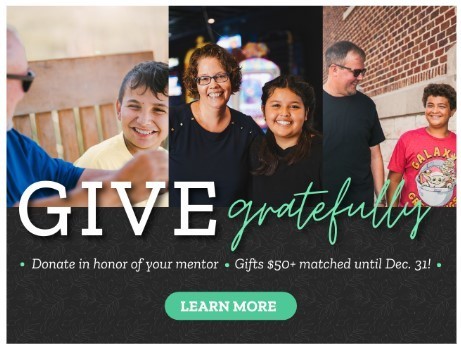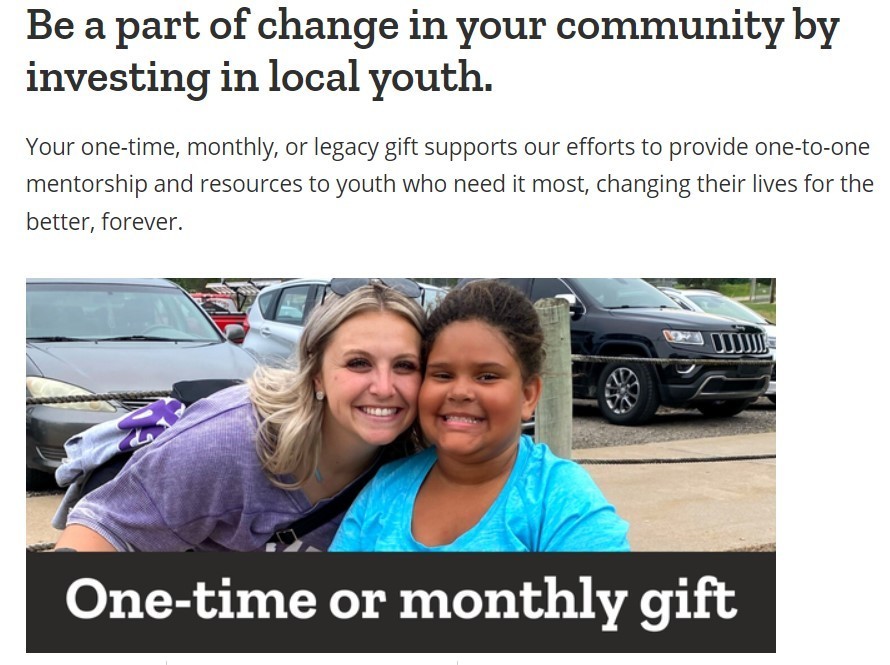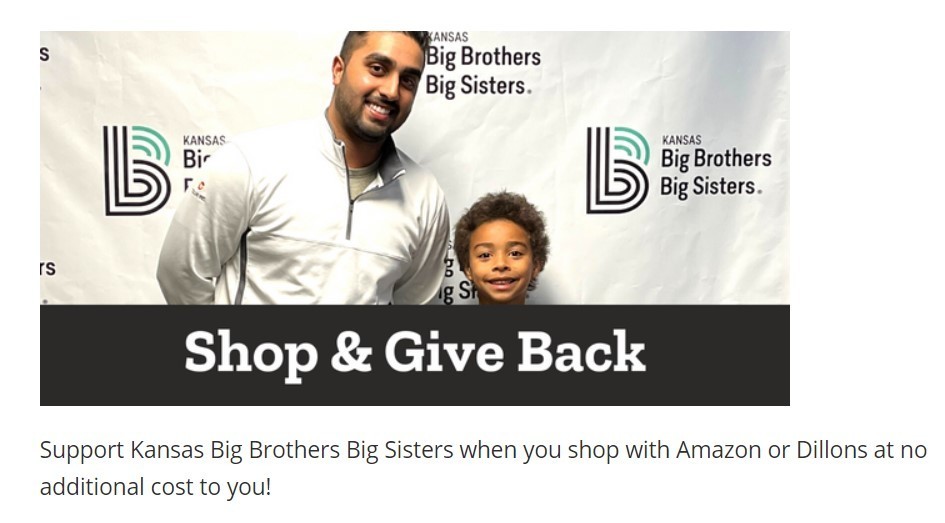 Reminder: Today is the last day to turn in your Drill Team Kiddie Clinic Forms!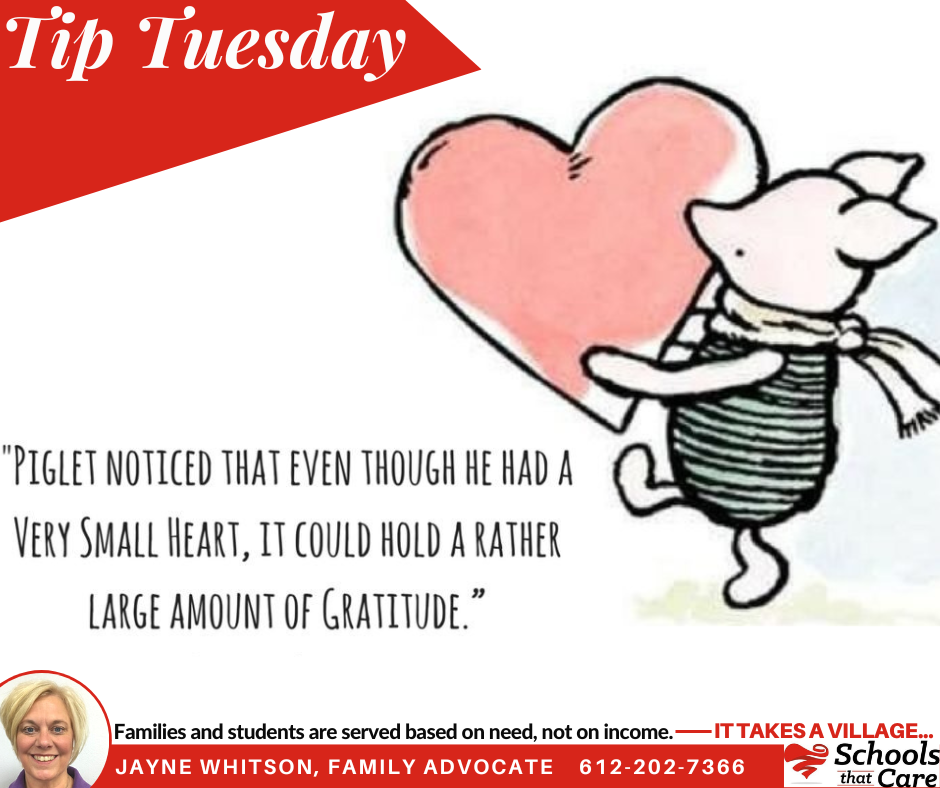 Today is "GIVING TUESDAY"! Be grateful and give what you can. Make a difference right here in our communities with a donation to Schools That Care and stretch that donation to the MAX!
https://www.frankfortgives.com/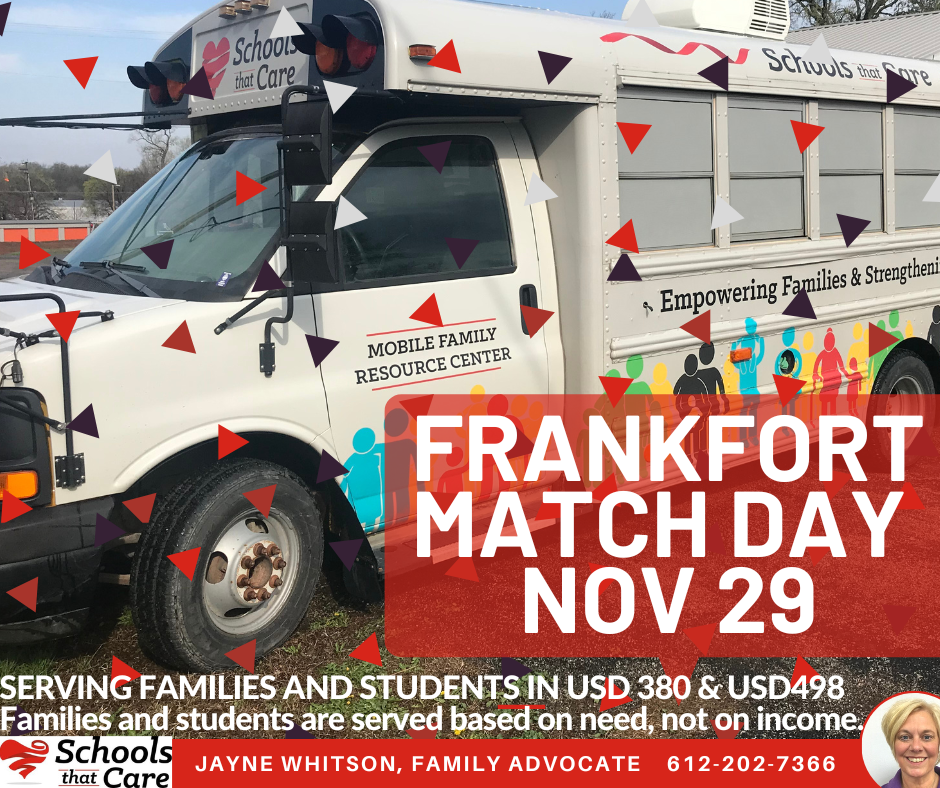 Please get registered now for spring gymnastics 2023. This class will be operated by Larsen Gymnastics. She teaches tumbling for ages Kinderprep to 6th grade. All experience levels are welcome from somersaults to back tucks. This class will run for 10 Mondays, from February 6th to April 24th (WILL NOT MEET March 13th or April 10th) at the Waterville Grade School. This class requires a pre-registration as well as a $50 fee for Valley Heights students and $100 for non-Valley Heights students.
https://forms.gle/HA3yUWahw2kq4YmYA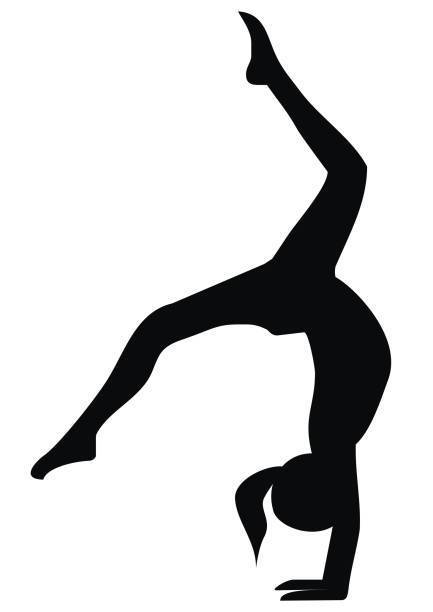 VHHS KAYs are seeking donations for food and cash donations to purchase food and distribute Christmas Meal Boxes for families in our communities this Holiday Season. #CountYourBlessings #PayItForward #BeABlessing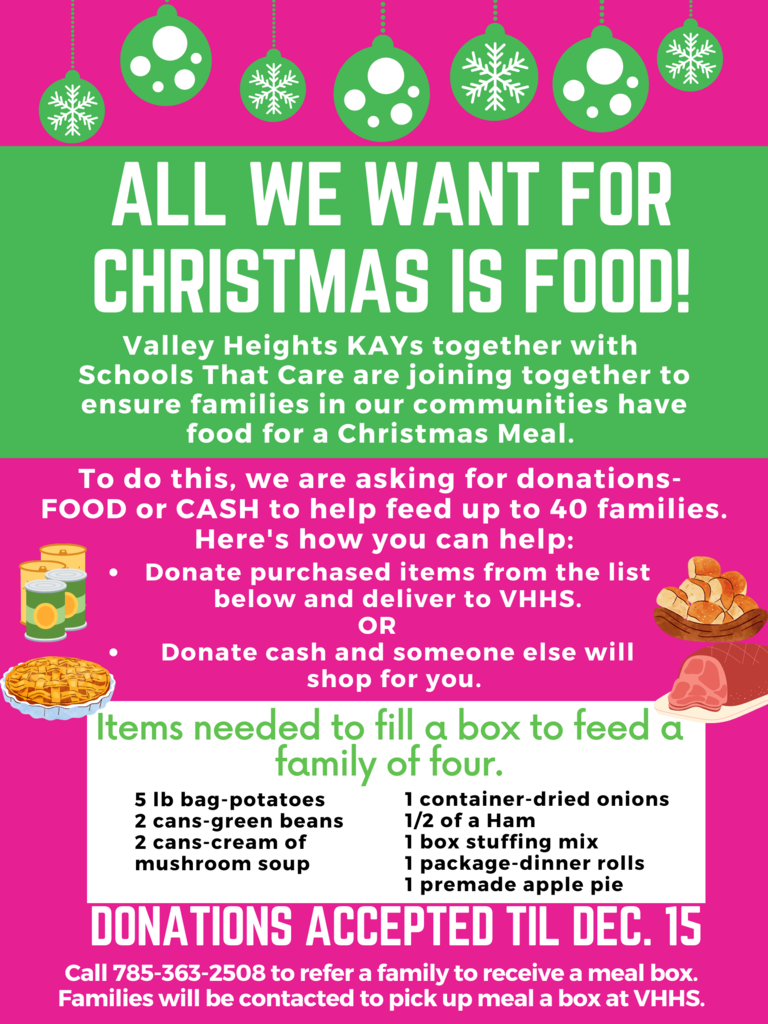 Schedule for Junior High Basketball tonight vs. Washington County (11/28): Blue Rapids Gym: 5:45 A team Girls 7:00 B team Girls HS Gym: 5:45 B team Boys 7:00 A team Boys followed by a ½ of C Team

Reminder: Drill Team Kiddie Clinic forms need to be turned into your school secretary by Wednesday, November 30th